Draft Network Integration Plan Available for Public Review and Comment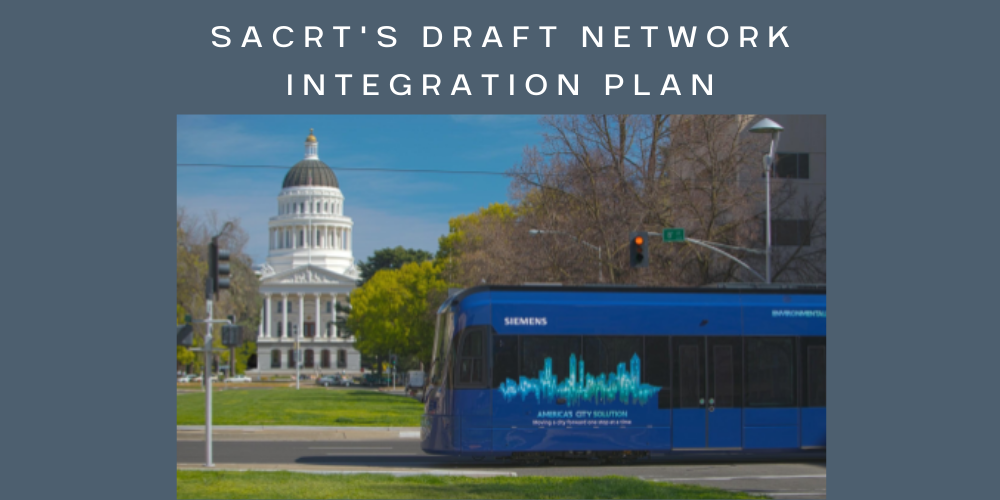 As a condition of SacRT's 2018 Transit and Intercity Rail Capital Program (TIRCP) grant for 20 new low-floor light rail vehicles, SacRT is required to prepare a Network Integration Plan, which ensures that the project will be compatible with the California State Rail Plan.
SacRT's Draft Network Integration Plan assesses various potential future operating scenarios of SacRT's Gold Line, as well as SacRT's downtown bus network, for integration and connection with intercity rail service at the Sacramento Valley Station (served by Amtrak and Capitol Corridor trains) and the future Midtown Station (to be served by San Joaquin and Altamont Commuter Express trains).
Review the Draft Network Integration Plan here.
Related projects are also analyzed for their impact on future operations. These projects include the transition of SacRT's Gold Line fleet and stations from high-floor to low-floor, double-tracking on the Folsom line, the City of Sacramento's Sacramento Valley Station master plan, SacRT's station redesign and expansion of the SVS Station, a new Railyards light rail station and double-track on 7th Street, and major construction in the Railyards and River Districts.
The Network Integration Plan is not a service change; however, it presents important recommendations and assesses feasibility of many future operating scenarios. Public comment is desired and encouraged.
The Draft Network Integration Plan is available for public review and comment through Monday, July 31.
Please address comments to James Drake at jdrake@sacrt.com.