SacRT Offers Free Rides on Light Rail During Caltrans Highway 99 Closure
Saturday, June 12, 2021 through 

Tuesday, June 15, 2021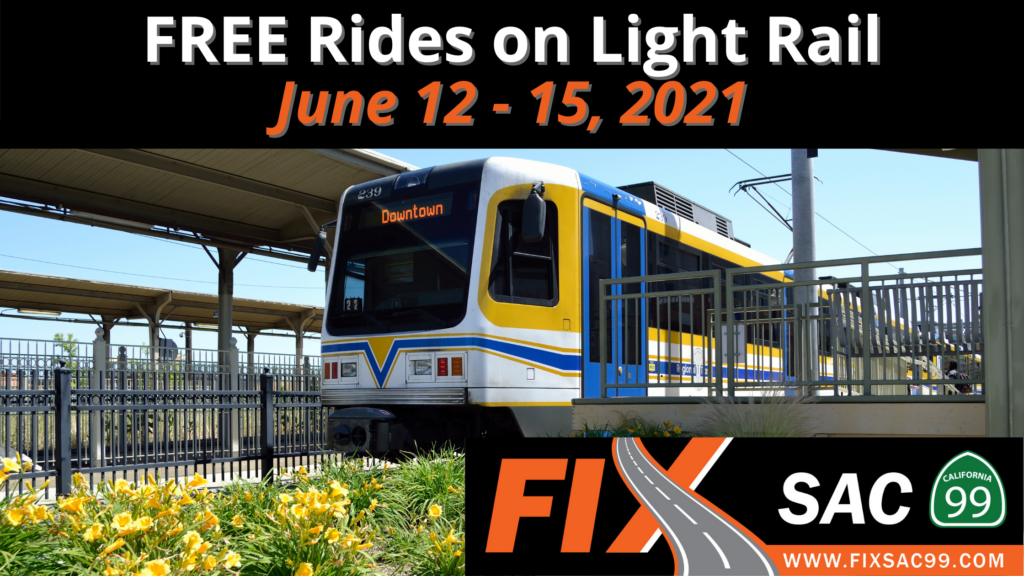 The Sacramento Regional Transit District (SacRT) teamed up with California Department of Transportation (Caltrans) to offer alternative transportation options during the FixSac99 project, which includes a complete closure of a section of Highway 99 in south Sacramento.
Caltrans is replacing the bridge deck on Highway 99 at 21st Avenue.
Highway 99 will be closed from 47th Avenue and the U.S. Highway 50 Connector from 8 p.m. on Friday, June 11, 2021 to 4 a.m. on Wednesday, June 16, 2021.
In addition, Caltrans is closing the mainline westbound Business 80/Capital City Freeway to southbound Highway 99, the westbound and eastbound US-50 connector ramps to southbound Highway 99, and various ramps will be closed.
SacRT is offering FREE rides on light rail from Saturday, June 12 through Tuesday, June 15, 2021 with a free ride flyer.
FREE RIDE FLYER
To ride light rail for free, simply print or screenshot the free ride flyer. You only need one flyer per group traveling together. Please show the flyer to a fare inspector if asked for your ticket or pass.

Light Rail Park and Ride Options:
Traveling from the south to the north, use the following free Park-and-Ride lots to ride light rail:
Franklin Station
Meadowview Station
Florin Station
47th Avenue Station
Traveling from the north to the south, use the following free Park-and- Ride lots to ride light rail:
Watt/I-80 Station
Roseville Road Station
Marconi/Arcade Station
Swanston Station
Arden/Del Paso Station
Traveling from the east to south on Highway 99, use the following free Park –and-Ride lots to ride light rail:
Power Inn Station
Watt/Manlove Station
Butterfied Station
Mather Field/Mills Station
Sunrise Station
Click here for a map of the light rail system: sacrt.com/systemmap/
How to Ride Light Rail
Station signage will identify which side of the station platform to stand. For your safety, stand behind the yellow caution strip.
As the train arrives, check the head sign to verify you are boarding the correct train.
For your safety, quickly find your seat or secure a standing position before the train departs.
Once the train has come to a complete stop, push the button on the door to enter.
Listen and watch for your stop. Push the button to open the door, and exit.
Bus delays are expected on the following routes:
Routes for e-tran:
For more information on detours, visit sacrt.com/alerts.
Plan Your Trip
Need help planning your trip on light rail? Use our online trip planner at http://sacrt.com/tripplanner/gtp.aspx or call SacRT Customer Service at 916-321-BUSS (2877).
Mask Required on Transit
Reminder, masks are required while riding transit. Learn more at sacrt.com/covid19.
FixSac99 Project
Visit FixSac99.com for more about the project.