Student Fare-Free Transit Pass Program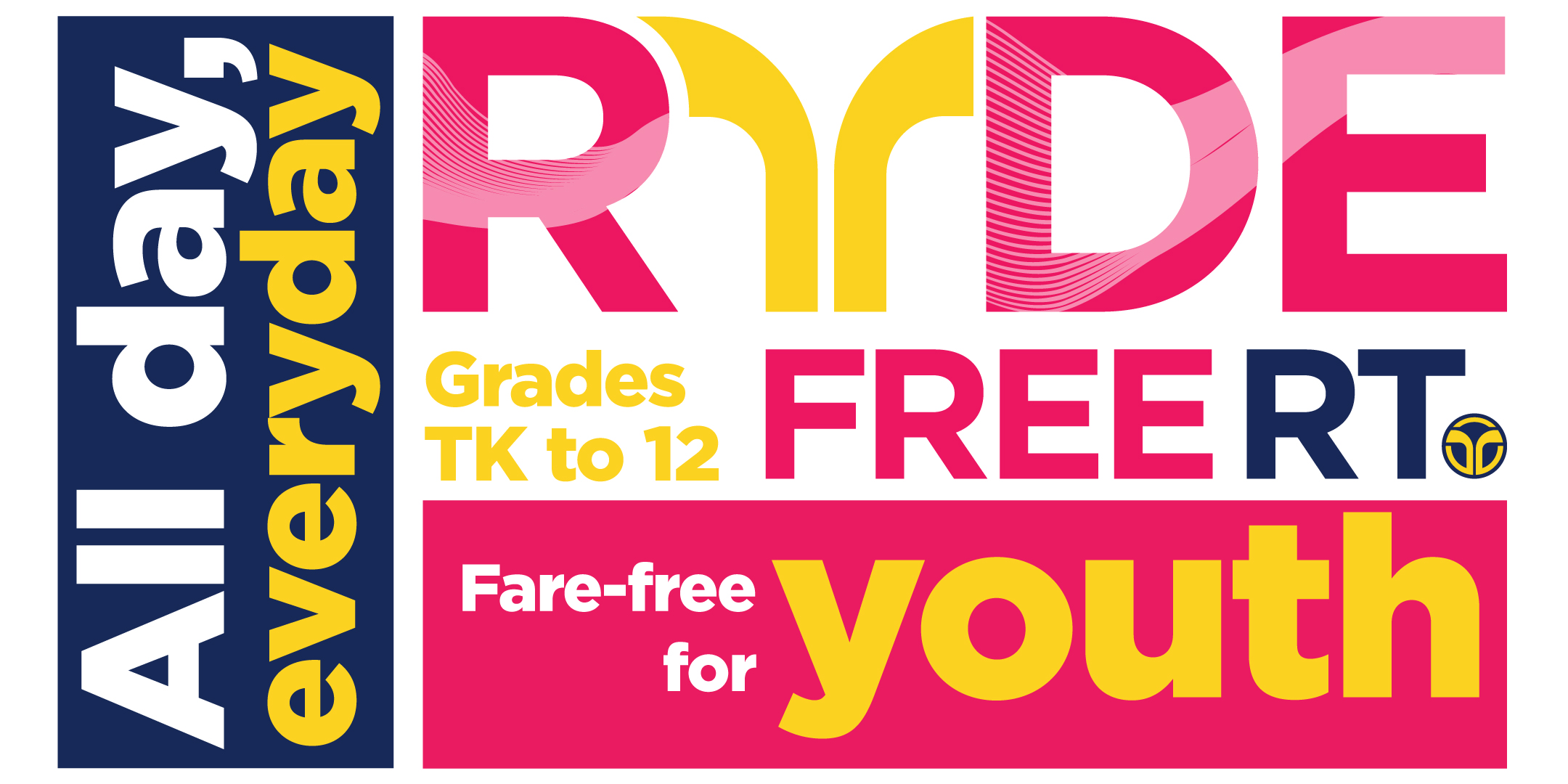 For more information. Please visit RydeFreeRT.com
SacRT has partnered with the City of Sacramento and other cities and school districts within our service area to offer free fare for students in grades TK through 12 to ride SacRT bus and light rail vehicles. All students within SacRT's service boundaries are eligible for the RydeFreeRT program.
The RydeFreeRT program offers fare-free transit for youth and students on the entire SacRT network starting on October 1, 2019. The program is set to run for one year from October 1, 2019 through September 30, 2020.
This initiative provides youth universal access to ride SacRT buses, light rail, and SmaRT Ride microtransit service. The program is available all day, any day of the week, and all year during regular SacRT service hours, and is signified by a special sticker on a student ID.
Most students will automatically receive a sticker with their valid student ID this year. Stickers are good for one year of fare-free travel on SacRT, beginning October 1, 2019. If your school does not supply a student ID, students may obtain a RydeFreeRT card at any Sacramento Public library.
 What are the program benefits?
Ability for students in TK through 12 to have easy access to fare-free public transportation year-round
Eliminates obstacles for youth to getting to and from school, internships, and other enrichment activities
Provides equitable investment in receiving a good education
Reduces greenhouse gas emissions and traffic congestion
Improves school attendance
Expands awareness and value of public transit
Who is eligible to ride for free?
This initiative will provide fare-free transit to youth in grades Transitional Kindergarten through grade 12 who live or attend school within SacRT's service area, which includes the Cities of Sacramento, Folsom, Citrus Heights, and Rancho Cordova and parts of Sacramento County. This program will also include youth experiencing homelessness and foster youth.
Are there any restrictions?
This initiative will provide for universal access (all day, any day of the week, all year during regular SacRT service hours). This includes access to buses, light rail and SmaRT Ride microtransit service.
How do I get the student pass?
Distribution of free-fare passes to all students is to be done at schools. Students who are experiencing homelessness and/or a part of foster programs will also be allowed to participate in the free student pass program regardless of current residence address or school address. Stickers are attached to youths student ID and are good for one year.
When will the stickers be distributed?
Stickers will be distributed to students when student IDs are issued.
What does the fare-free program cost?
The fare-free program is free for students and youth. SacRT will be entering into agreements with cities and local school districts to reimburse SacRT for lost fare revenue.
How to get a RydeFreeRT Pass
Many schools will offer a student pass sticker that will be attached to a student's school issued ID card. For students grades TK – 6, the school will provide a special bus pass with a sticker already on it. Please inquire with the school administrative office.
If a school does not provide the passes or stickers on campus, students can go to any Sacramento Public Library, present a school ID, and receive a sticker. Students in grades TK – 6 will be given a pass and sticker. To find your local library, visit saclibrary.org.
For students grades 7 – 12 who do not have a student ID, they must go to the SacRT Customer Service Center (1225 R Street) to get a valid student ID and sticker.
Additionally, homeless and/or foster youth age 18 and under are eligible regardless of whether or not they have an ID card.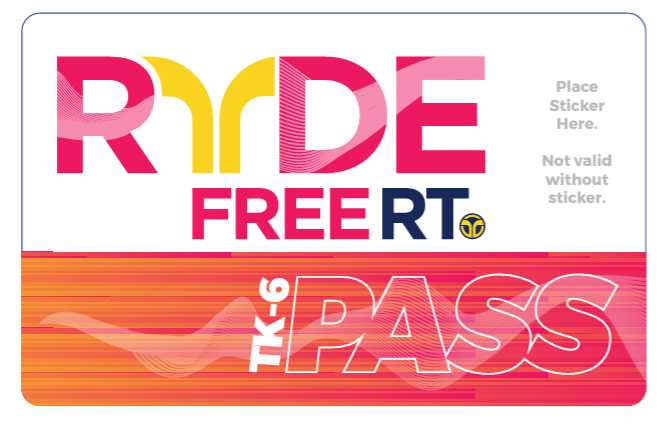 Student Pass
Student Sticker