Make the Holidays Magical in Downtown Sacramento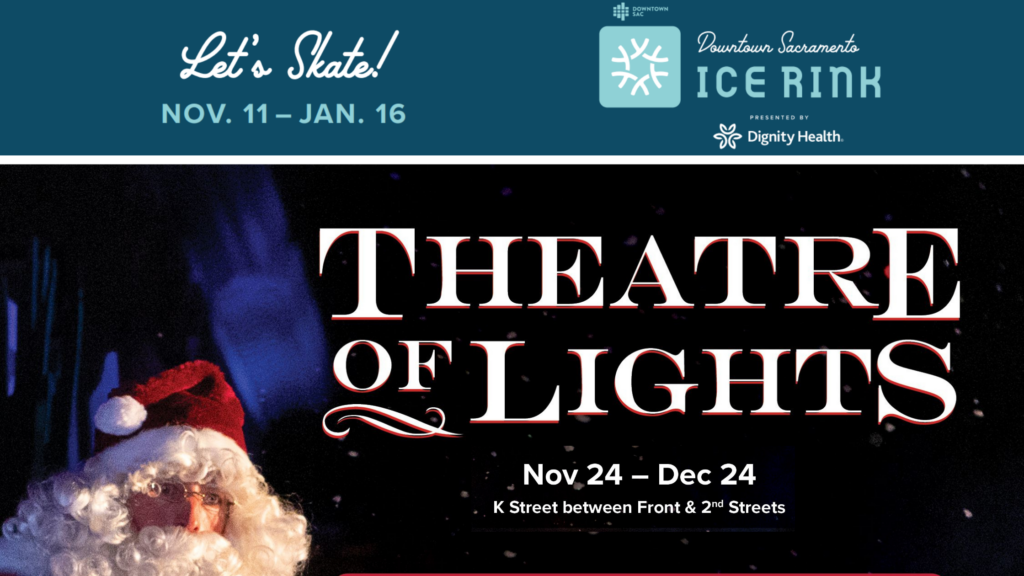 Celebrate the holidays this winter in downtown Sacramento. After pausing for a season in 2020, both the Downtown Sacramento Ice Rink and Theatre of Lights are back, bringing amazing opportunities for holiday memories back to Sacramento.
Downtown Ice Rink
Sharpen your skates and get ready to perfect your triple axel, the Downtown Sacramento Ice Rink is back! Open Tuesday through Sunday, November 11, 2021 through January 16, 2022 at 7th & K streets in downtown Sacramento, glide, twirl and spin into a winter wonderland in Downtown Sacramento.
Ride SacRT and get $2 off admission by showing SacRT fare from that same day.
Discover all the ways the Downtown Sacramento Ice Rink can be a part of your holiday traditions by visiting GoDowntownSac.com/icerink
Theatre of Lights
The annual Theatre of Lights show will return this year to the Old Sacramento Waterfront. Also, presented by Dignity Health, Theatre of Lights is an electrifying and family-friendly show that debuts on Wednesday, November 24, 2021 (Thanksgiving eve), immediately following the annual Tree Lighting Ceremony at Front & K Streets at 6 p.m.
WHEN: November 24, 2021 – December 24, 2021
Twice nightly performances at 6 p.m. & 7:30 p.m.
Thursday through Sunday
One performance on Wednesday, Nov. 24 immediately following the Holiday Tree Lighting Ceremony, 5 p.m. – 6 p.m.
No show on Thanksgiving, Nov. 25
Two performances on Tues, Dec. 21 at 6 p.m. & 7:30 p.m.
Two performances on Wed, Dec. 22 at 6 p.m. & 7:30 p.m.
Only one performance on Christmas Eve, Fri., Dec. 24 at 6 p.m.
WHERE: Front & 2nd Streets – 106 K Street, Sacramento, CA 95814
Plan Your Trip
Avoid parking hassles and take SacRT to these fun holiday events. For trip planning assistance, visit sacrt.com or call 916-321-BUSS (2877). Plan your trip here.
For hours and general information, visit OldSacramento.com/event/theatre-lights