Ride Free on the SacRT Holiday Bus

SacRT will once again wish everyone a happy holiday season by offering free rides on its annual holiday bus. The holiday-themed 40-foot bus will be easy to spot as it travels on different routes throughout the Sacramento region spreading goodwill from Tuesday, December 1, 2020 through Friday, January 1, 2021.
In keeping with the "season of giving," passengers will have the opportunity to deposit a cash donation in the farebox. This year, all donations will benefit the Food Literacy Center.
Food Literacy Center's mission is to inspire kids to eat their vegetables. They teach children in low-income elementary schools cooking, nutrition, gardening, and active play to improve our health, environment, and economy. Did you know that only 4% of kids eat enough veggies and 1 in 3 have type 2 diabetes? Healthy eating is the most effective way to prevent diet-related disease. During the pandemic, Food Literacy Center is distributing Veggie Recipe Kits to kids so they can cook a healthy meal at home with their families. Help give kids a healthier future and donate at www.foodliteracycenter.org.
Click the image below to donate online directly to Food Literacy Center: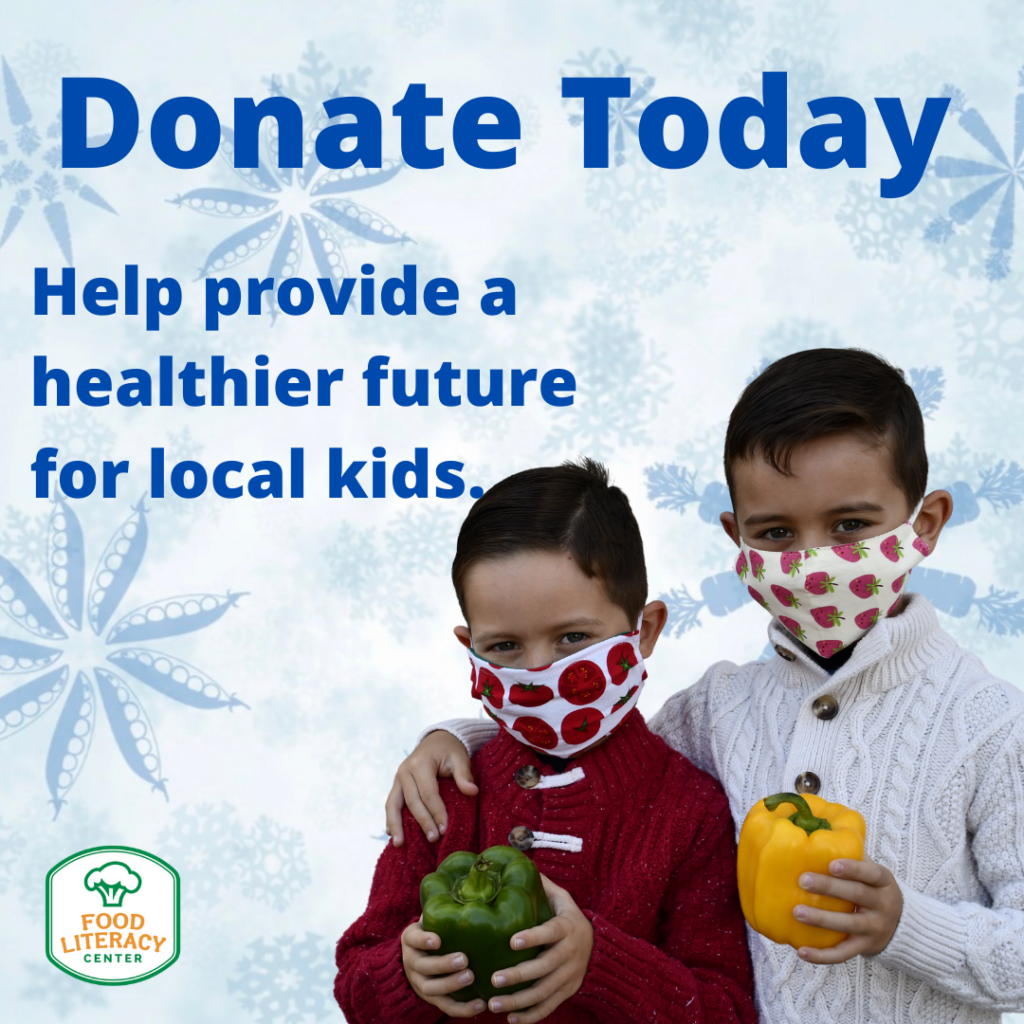 Holiday Bus Schedule
View the schedule to find out when the Holiday Bus will be traveling to a neighborhood near you!
Tuesday, December 1 – Route 51
Wednesday, December 2 – Route 82
Thursday, December 3 – Route 1
Friday, December 4 – Route 11
Saturday, December 5 – Route 67
Sunday, December 6 – Routes 86, 87
Monday, December 7 – Route 13
Tuesday, December – Route 19
Wednesday, December 9 – Routes 15, 88, 1
Thursday, December 10 – Route 81
Friday, December 11 – Routes 26, 84
Saturday, December 12 – Route 21
Sunday, December 13 – Routes 56, 62
Monday, December 14 – Routes 75, 78
Tuesday, December 15 – Route 25
Wednesday, December 16 – Route 72
Thursday, December 17 – Food Literacy Center Event
Friday, December 18 – Routes 87, 93
Saturday, December 19 – Route 1
Sunday, December 20 – Routes 30, 38
Monday, December 21 – Route 61
Tuesday, December 22 – Routes 67, 68
Wednesday, December 23 – Route 21
Thursday, December 24 – Route 23
Friday, December 25 (Merry Christmas!) – Route 51
Saturday, December 26 – Route 23
Sunday, December 27 – Routes 56, 62
Monday, December 28 – Routes 193, 93
Tuesday, December 29 – Route 81
Wednesday, December 30 – Routes 26, 84
Thursday, December 31 – Routes 30, 38
Friday, January 1 (Happy New Year!) – Routes 15, 23, 88