Proposed Dos Rios Light Rail Station – Presentation of Design Alternatives
Proposed TCC Climate Initiative: Transit Access at Twin Rivers
SacRT hired the Portland State University Center for Public Interest Design (CPID) to help further refine the design of the new Dos Rios station planned for North 12th Street in the City of Sacramento. The future station will be served by the Blue Line.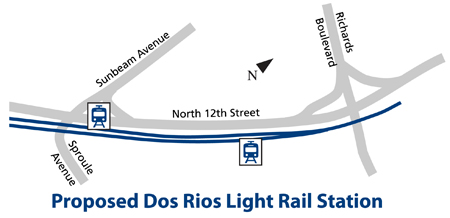 Help us pick a station design!
Dos Rios Light Rail Station – Presentation of Design Alternatives
When: Tuesday, September 11, 2018 – 4:30-6:30pm (presentation to begin at 5pm)
Where: Smythe Academy, 700 Dos Rios Street, Sacramento 95811 (multi-purpose room)
Why Attend? To share your interest and viewpoints about the Dos Rios light rail station. Light refreshments will be served.
The design team from Portland State University's Center for Public Interest Design (CPID) will present two design concepts and the following aspects of the design concepts:
Station designs in the neighborhood context including existing and future street alignments and related urban design improvements
Integration of the station with housing, public artwork, signage and neighborhood/station naming
Ancillary uses within or adjacent to site
Specifications for materials
Cost estimates
The City and Twin Rivers Housing developer will also provide updates on adjacent projects and visioning for the neighborhood.
Project Schedule & Reports:
Sign up to be on the Dos Rios Project mailing list here.
Project Manager:
Traci Canfield
Senior Strategic Planner
Sacramento Regional Transit
Tcanfield@sacrt.com