SacRT COVID-19 Preparedness – Mask or Face Covering Now Required to Ride
Masks or face coverings are now required when riding SacRT. The California Department of Public Health now requires face coverings in public including on public transportation. We appreciate your cooperation as we all work to slow the spread of COVID-19.
---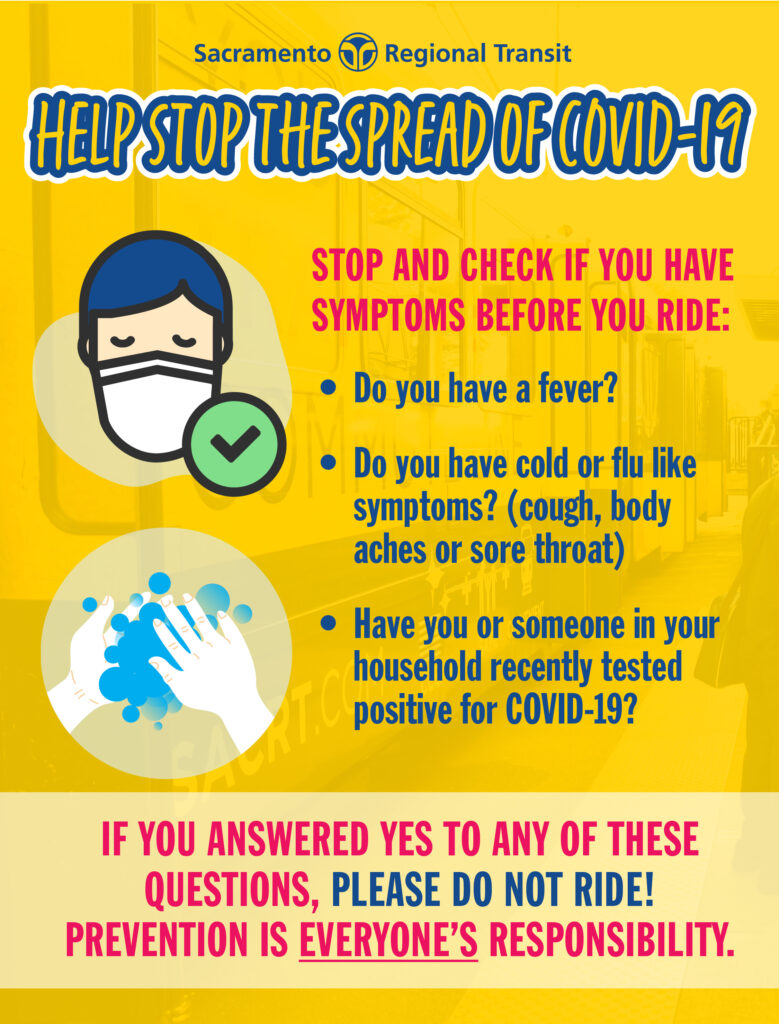 To comply with the California Department of Public Health's guidance on requiring face coverings or masks on public transportation, SacRT is now requiring masks or face coverings be worn while waiting at bus stops, light rail stations and when riding any SacRT vehicle.
To help promote the use of face coverings and non-medical masks, SacRT is currently handing out masks, donated by the Federal Transportation Administration, at the Customer Service and Sales Center to customers that request one. SacRT staff also started handing out masks to customers at key transit centers and stations, and they will soon be available onboard buses and light rail trains upon boarding.
Starting Monday, June 29, 2020, SacRT will begin enforcing the face covering/mask requirement while waiting at bus stops and station and on-board buses and light rail vehicles. Before SacRT moves to enforcement, we will encourage compliance to the extent that is practical and educate riders about the benefits and safeguards against the spread of the virus. If a customer refuses to wear a mask or face covering, they will be denied service.
The state mandate exempts people with a medical, mental health or developmental disability that prevents them from wearing a face covering or mask. A face covering or mask is also not required for the hearing impaired or those communicating with them.
To read more about the state mandate, visit covid19.ca.gov.
Need a Mask?
SacRT is handing out free masks to customers that do not have a mask. They are currently available at the SacRT Customer Service and Sales Center at 1225 R Street (13th Street Light Rail station).
Rider Alert: Due to warmer temperatures, SacRT light rail doors will no longer automatically open during peak commute hours starting on Monday, May 25. The warmer temperatures make it challenging to keep the light rail vehicles cool when all doors are opened at every stop. Customers will need to push the button for the doors to open. Customers are encouraged to carry their own sanitizing wipes or use an elbow to press the door request button, as safety is everyone's responsibility. In addition, customers can begin front door boarding on buses, as all plexi-glass barriers near the driver's seat have been installed.
COVID 19 Safety Precautions
The safety and health of our employees and customers has been and continues to be a top priority for SacRT and we are taking a number of proactive measures in response to COVID-19.  
How SacRT is keeping you safe:
Blocking off certain seats in buses and light rail trains to provide physical distancing
Installing protective plexi-glass barriers on each bus by the driver's seat to reduce risk when paying fare
Requiring all employees and riders to wear a face covering or mask
Fogging and disinfecting buses, light rail trains and facilities
Cleaning and sanitizing all touch points
Providing employees with personal protective equipment (PPE) such as hand sanitizer, disinfectant wipes, disposable gloves, masks and safety glasses
Reminding riders to maintain social distancing at stations/stops and onboard vehicles
Urging riders to download ZipPass the free mobile fare app to reduce touchpoints
Light rail fare inspectors sanitizing the portable Connect Card tap device after each validation
Asking customers to not ride transit if they are sick
How you can help:
We urge customers to follow The Centers for Disease Control and Prevention's (CDC) recommendations:
Practice social distancing by keeping at least six feet between you and other people, including our operators and employees
Wash your hands frequently with soap and water for at least 20 seconds
Avoid touching your eyes, nose and mouth
Cough or sneeze into a tissue, then throw that tissue in the trash. If you don't have a tissue, use your elbow
Stay home if you're not feeling well
With more people working from home, there is more space on buses and trains for customers to social distance. Please be mindful of other people and their space
While riding our system, if you need to report any sanitation or cleaning issue, please download the free Alert SacRT App. You can also call Customer Service at 916-321-BUSS (2877)
SacRT will keep you updated on social media, website and email. Sign up for COVID-19 updates here.
SacRT Public Office changes because of COVID-19:
Due to COVID-19, the situation is changing rapidly. Many SacRT public offices are closed to public visits or have limited access.
Closed offices to the public:
Human Resources, 2810 O Street, Sacramento
SacRT Administrative Building, 1400 29th Street, Sacramento
Limited in-person hours: 
Customer Service and Sales Center, 1225 R Street, Sacramento (10 a.m to 4 p.m. Monday through Friday).

 

Accessible Services Department, 1221 R Street, Sacramento (8 a.m. to 5 p.m. Monday through Friday).

 

Please call in advance – 916-557-4685
Visitors to SacRT's Customer Service and Sales Center or any SacRT facility are required to wear a mask or face covering. Also, a maximum of five people at a time are allowed inside the Customer Service and Sales Center
All departments are still available by phone: 
Human Resources: 916-556-0297
Administrative Office: 916-321-2800
Accessible Services Department: 916-557-4685
Customer Service and Sales Center: 916-321-2877
Customer Advocacy: 916-557-4545