SacRT SmaRT Ride – Shuttle Service that Comes to You

SmaRT Ride Rider Alert: Beginning Monday, August 28, 2023, SacRT's SmaRT Ride on-demand shuttle service made adjustments to three service zones that impact hours and span of service as a result of the initial program grant funding expiring.
The Citrus Heights-Antelope-Orangevale and Downtown-Midtown-East Sacramento microtransit service zones were reduced in size and the Florin-Gerber zone increased slightly on a no-cost basis, to increase ridership and reduce cost per passenger. For operational consistency, all nine SmaRT Ride zones now provide the same service hours from 7 a.m. to 7 p.m
SmaRT Ride is similar to other ride-share services where customers can use a smartphone app to request a ride that will pick up and drop off passengers within the service boundaries.
SmaRT Ride Service Areas
Citrus Heights-Antelope-Orangevale offers curb-to-curb service where passengers are picked up and dropped off at the address they indicated when scheduling.
All other service areas offer corner-to-corner service where passengers are picked up and dropped off at the nearest corner or 'virtual bus stop,' which is usually within a block or two of their pickup or drop-off location. The  Downtown Core (north of S Street, west of 20th Street in downtown Sacramento) will be a limited stop zone, where Smart Ride will pick up and drop off at specific destinations as noted on the map.   
Curb-to-curb service areas:
Corner-to-corner service areas:
Map of Nine SmaRT Ride Zones
New Improved Transit Options
SacRT launched an improved SmaRT Ride app to improve the customer experience by providing all the transit options available near them when a SmaRT Ride shuttle is unavailable due to high demand or other factors.
With the updated app, customers can easily explore various routes and schedules, and receive real-time updates for fixed-route buses, light rail, and other modes of public transportation. If SmaRT Ride isn't available, the app assists by offering the most convenient alternative transit option.
How to Ride SmaRT Ride:
Check out out step-by-step guide on how to use the SacRT SmaRT Ride app! Click the image below to open as a PDF.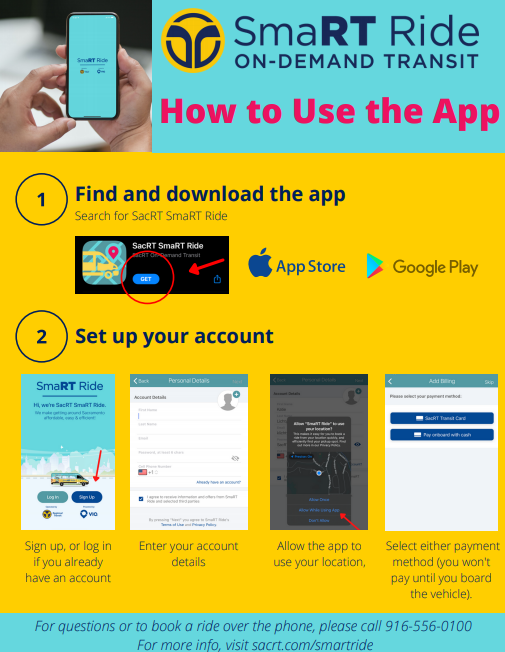 First, download the free SmaRT Ride App, which is available in Google Play and the App Store.
To request a ride, enter a pick-up address and then enter your destination address. Note: SmaRT Ride shuttles cannot travel outside the service boundary. The pick-up and drop off location need to be inside the same service zone.
Following a SmaRT Ride request, the SmaRT Ride app will provide passengers with an estimated pick-up time, track their bus in real-time, and be alerted when their ride is about to arrive. Passengers will also be alerted when their ride is about to reach their desired destination.
SmaRT Ride customers will also be able to request rides by calling 916-556-0100 or by going online to ondemand.sacrt.com; however, trip requests must be made on the same day. Wait times for service are subject to vehicle availability and demand.
The drop off window is an estimate based on your desired travel time. Because this is a ride-sharing service, actual drop-off time may vary due to demand. Please understand that while we make every effort to arrive at your desired travel time, you may have a slight wait for the SmaRT Ride shuttle arrival due to demand. If you must arrive at your destination at a specified time, we recommend planning your trip to include a time cushion.
SmaRT Ride service is only available within each designated service zone. SmaRT Ride shuttles cannot travel outside the service boundaries.
Fares
|   If you are: |   Your fare is |   Single |   Daily Pass |
| --- | --- | --- | --- |
|   Age 19 – 61 |   Basic |   $2.50 |   $7.00 |
|   Senior (age 62+) |   Discount |   $1.25 |   $3.50 |
|   Person with Disabilities |   Discount |   $1.25 |   $3.50 |
|   Student (Grades K -12)* |   *Fare Free |   *Fare Free |  *Fare Free |
*Youth (grades TK-12) ride free with a valid RydeFreeRT. Visit rydefreert.com for details.
Groups of 5 or more ride FREE! All riders traveling in a group of five or more ride for free. To take advantage of this offer, everyone must travel together as a group from the same pick up location to the same destination.
SmaRT Ride Holiday Schedule
SmaRT Ride service does not operate on some holidays. Holiday schedules for all SacRT services can be found at https://www.sacrt.com/apps/holiday-schedules/.