Causeway Connection Electric Bus Service Begins April 6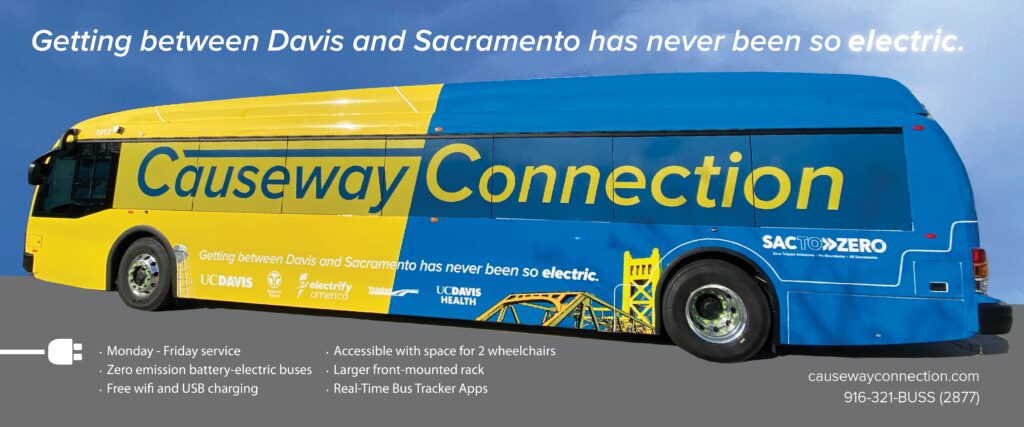 On Monday, April 6, 2020, the new Causeway Connection zero emission electric bus service between Davis and Sacramento will begin operation. SacRT and Yolobus will operate the service in partnership with UC Davis, City of Sacramento, Electrify America and the Sacramento Area Council of Governments to operate the new public intercity express bus service.
Route 138 Causeway Connection bus will operate Monday through Friday between the hours of 5:30 a.m. and 8:50 p.m. between the cities of Davis and Sacramento.
The service will operate, in tandem, by SacRT and Yolobus. Each transit agency will operate six of the 12 electric buses.
Causeway Connection Schedule and Map
(click to the images to enlarge)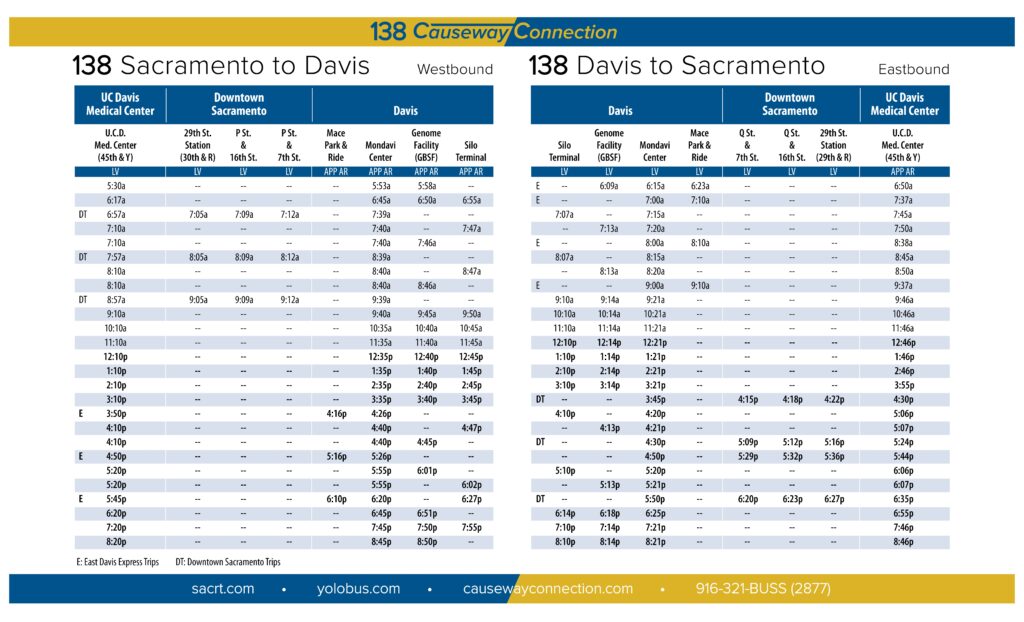 Causeway Connection Schedule Highlights
Multiple non-stop and express trips between UC Davis Campus and UC Davis Health during peak commute hours
Hourly direct trips between the UC Davis Campus and UC Davis Health during midday hours
52 trips daily between the cities of Davis and Sacramento
Peak-hour seating capacity for 99 people (3 buses each peak hour  x 33 seats)
Bus Features
100% zero emission electric-battery buses
Free Wi-Fi and USB charging
100% accessible with space for up to two wheelchairs
Secure bike rack
Real-time bus tracker using transit apps
The 12 new shuttles were purchased by Electrify America, the Volkswagen subsidiary, as part of its $44 million Green City initiative to promote electric vehicle adoption in Sacramento.
Cost to Ride
The cost to ride will be $2.50 or $1.25 for discount eligible riders.
UC Davis undergraduate, graduate, exchange students, and employees with a valid Aggie ID card are eligible to ride the Causeway Connection for free. Visit https://foa.ucdavis.edu/causewayconnection for more information.
Payment options:
Mobile app ZipPass (download free at App Store or Google Play)
Connect Card (purchase at connecttransitcard.com)
Monthly pass, daily pass or single ride ticket
Valid College ID (Sacramento State, UC Davis, Los Rios Community College)
Youth/Students TK-12 ride free (visit RydeFreeRT.com for details) on SacRT operated buses
Youth age 18 & under ride free on (visit http://yolobus.com/news/index.php/602) on Yolobus operated buses
Cash (exact fare is required – operators don't carry change)
Find Your Bus
To help plan your trip, SacRT has a real time web application, YoloBus has a real time web application, and Google Maps uses the real-time data to track your bus.
In addition, there are third-party developers who have access to our data and provide free installable apps for use with your mobile devices.
SacRT and Yolobus do not endorse, warrant or support any of the apps listed below but we want you to know they are available if they can enhance your commute
If you're an app developer and want to use SacRT data for your app, visit the Developer's Terms of Use page to access the data. If you are using the data and have an app you would like to make available here, contact SacRT at webmaster@sacrt.com.
Contact Us
916-321-BUSS (2877)
Monday – Friday from 6:30 a.m. to 7 p.m. (closed major holidays)
Saturday and Sunday from 7 a.m. to 4 p.m.
Report a Problem
In case of emergency, call 9-1-1.
Report non-emergency crimes or suspicious activity to SacRT Police through the free Alert SacRT app or call 916-556-0275.