Meet Brianna Harrison, the first female graduate of SacRT's innovative and rigorous bus mechanic training program
Brianna Harrison is a self-starter who believes she should challenge herself whenever she gets the chance. The Sacramento Regional Transit District (SacRT), union officials and a local college recently gave her that chance.
The result: Harrison last month became the first female to graduate from SacRT's special three-year-long Bus Maintenance Apprenticeship Program. That makes her the transit agency's newest "Mechanic A," the highest job level for mechanics.
Co-worker Anthony Bertuccelli also received his program graduation certificate at a ceremony last month.
Harrison is now certified by the state of California to work on all aspects of bus diagnostics, maintenance, and repair. Or as trainer Shaun Harris put it, Harrison can fix a bus "bumper to bumper." That may mean rebuilding engines, troubleshooting electrical systems, working on air conditioning issues, or fixing suspensions.
It's a big moment for the Sacramento resident who has been a service worker in the SacRT Bus Maintenance division for the last decade.
"Being the first woman to graduate is a big accomplishment for me. I'm proud and I'm happy to have done it at SacRT," she said. "I know it is cliche, but there is nothing a woman can't do. That is my mindset. That is what my mom taught me."
SacRT and union officials say they are proud of Harrison's success, making her one of three female mechanics now working at SacRT. The other two are employed at Mechanic C level.
"We're breaking ceilings," said Carmen Alba, SacRT vice president of bus operations. "That is a big deal. We are super excited about it. We are looking to highlight this as an example."
"I can't even put into words how proud we were to find we had a female who was interested in going into the program," said Sheila Lawton, senior business representative of the IBEW union local. "And to see her do so well was something we couldn't be more proud of.  We certainly hope many more of our ladies look at this and say, 'I can do this.' "
The IBEW will be there to support candidates, Lawton said, but she added that candidates for the apprentice program have to be motivated. Applicants must first complete several months of up-front self-guided study at home, then attend classes at program partner American River College, paid for by SacRT and the state.
For Harrison, tinkering runs in the family. Harrison's grandfather was a mechanic. She helped him out at times, but she didn't think much about the occupation until she got a service worker job at SacRT and saw the bus mechanics at work.
"When I saw how important mechanics are just to keep SacRT itself running, I thought, 'Hey, that is really cool. I would like to do that one day.' Then, the opportunity presented itself."
She was confident and motivated going into the rigorous program. But she was aware that she would be the first woman at SacRT to go through the program, and that meant eyes would be on her.
She got solid support from colleagues, she said. "Nobody here (at SacRT) doubted me. But it was definitely internal, where I am like, "wow, I am kind of the oddball here. It feels great to see how far I have come in my career."
She particularly likes the challenge of figuring out what might be wrong with a bus when the problem is not immediately obvious.
"My favorite part is diagnostics and troubleshooting electrical issues," she said. "Finding the problem, when it's something deeper and internal, that makes me so happy, where you have to open a schematic and see connections between things."
Harrison said she has already noticed her job change is causing some people to think out of the box. "People ask, 'Oh, what do you do for SacRT?' And I say I am a mechanic. They're like, 'wow.' It's a surprise to a lot of people. I have a lot of girl cousins, and they are all somewhat inspired. So, if I can be an inspiration, that's good."
SacRT is hiring! Looking for a new career, visit sacrt.com/careers to apply for a position online.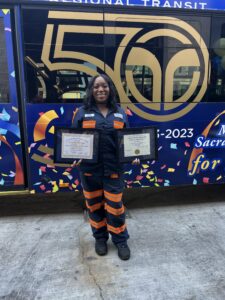 Brianna Harrison
Anthony Bertuccelli