SacRT Awarded $45 Million by FTA for New Light Rail Vehicles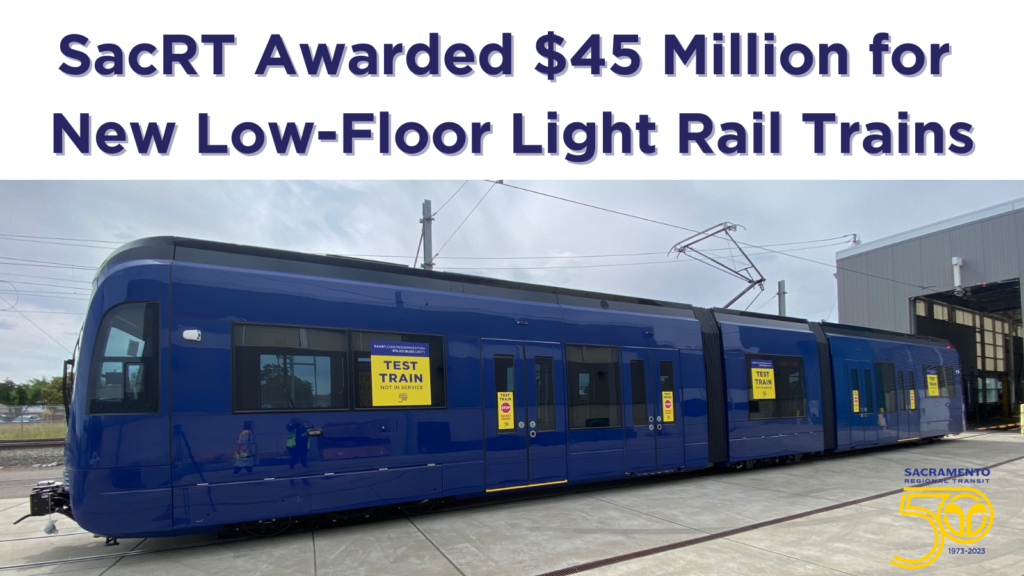 The Sacramento Regional Transit District (SacRT) was awarded today a $45.1 million grant from the Federal Transit Administration (FTA) to support the purchase of 16 new light rail vehicles.
The grant through the FY22/23 Rail Vehicle Replacement Program, a new program created by the Bipartisan Infrastructure Law, will help SacRT towards the purchase of 16 new low-floor light rail vehicles from Siemens Mobility in south Sacramento. SacRT is one of six transit agencies nationwide and the only in FTA Region 9 to receive this grant.
SacRT previously purchased 28 new low-floor light rail trains from Siemens Mobility and has a contract to order up to 76. Those vehicles are currently undergoing a testing process before they can be put into service early next year. With the order of an additional 16 new low-floor trains, SacRT will have 44 new low-floor vehicles, which is close to two-thirds of all the vehicles needed to operate on our light rail system.
SacRT has secured more than $350 million for our Light Rail Modernization Project, which includes the purchase of new low-floor trains, modifications to station platforms and adding a passing track to provide 15-minute service to Folsom area stations.
"The Bipartisan Infrastructure Law is delivering federal dollars across the nation – and here in Sacramento our innovators at SacRT are ready to capitalize on its benefits for the community," said Congresswoman Doris Matsui (CA-07). "I was proud to fight for this infusion of federal funds that will replace 35-year-old light rail vehicles with new modern trains built right here in Sacramento by Siemens Mobility. This $45 million grant is helping us build Sacramento's future and will enable us to continue leading the way on sustainable, clean, and equitable public transportation."
"Sacramento Regional Transit is crucial for mobility in the Sacramento region, but the current light rail cars have reached the end of their useful life, said Congressman Ami Bera (CA-06). "I am proud to have helped secure funding through the Bipartisan Infrastructure Law for a new fleet of low-floor cars that will enhance the rider experience and make light rail accessible to all, including those with mobility restrictions, parents with strollers, and cyclists."
"As we celebrate SacRT's 50 years of service to the region—we can also look to the future," Senator Alex Padilla said. "I have been proud to support and see SacRT's efforts over the finish line to secure federal funding for new, modern light rail cars. Today's grant announcement is a major investment in regional mobility, making light rail cleaner, safer, and more accessible for everyone."
"I want to thank Senator Padilla and Representatives Matsui and Bera for championing the Bipartisan Infrastructure Law that created this new grant program, said SacRT Board Chair and Sacramento County Supervisor Patrick Kennedy. "This significant funding award will help accelerate SacRT's light rail modernization program and puts us one step closer to replacing our aging light rail fleet with entirely new and modern, low-floor vehicles that will improve accessibility for all riders. These new vehicles are being built by Siemens, right here in Sacramento, so this is also a significant boost to the economic prosperity of the region."
"We are very grateful to the Federal Transit Administration, FTA Administrator Nuria Fernandez and FTA Region 9 Administrator Ray Tellis for their extraordinary leadership for recognizing how important it is to replace our aging fleet of light rail vehicles," said SacRT General Manager/CEO Henry Li. "We also owe our gratitude to Senator Alex Padilla, Representative Doris Matsui and Representative Ami Bera for supporting this grant opportunity and SacRT in general. We are a stronger community because of the work they do on our behalf, and we will be even better when these new, modern low-floor light rail trains are in service early next year."
This new FTA funding along with other grant funding from the Sacramento Area of Governments (SACOG) and the state is being used for the new purchase of 16 low-floor light rail trains.
At the end of April, the state of California awarded SacRT $8.5 million in grant funding through the Transit and Intercity Rail Capital Program (TIRCP) to help support improved train technology, including real-time train arrival, passenger announcement system and more. Furthermore, this week the SACOG Transportation Committee approved their 2023 Regional Funding recommendations which include nearly $6.5 million for SacRT's Light Rail vehicles replacements and $5 million for station conversions to accommodate the new vehicles.
New low-floor light rail trains are expected to be in service on the Gold line by summer 2024. Learn more at sacrt.com/modernization.