SacRT GO Supplemental Services Frequently Asked Questions (FAQs)
Question 1:  Is the SacRT GO supplemental service provided by UZURV the same type of service provided by local taxi, Lyft, or Uber-type services?
UZURV is an adaptive Transportation Network Company that specializes in paratransit and non-emergency medical transportation. It is similar to Lyft and Uber in that the service is classified as a TNC with independent contractors as Drivers, however, the service is provided as supplemental assistance to already established transit agencies.
 Question 2:  When and Where Does UZURV Operate SacRT GO Service?
SacRT GO provides service in those areas of Sacramento, Citrus Heights, Elk Grove, Folsom and Rancho Cordova that are within ¾ of a mile of SacRT bus routes or around SacRT light rail stations.
UZURV provides trips assigned by SacRT. These trips can be at any time and in any area where SacRT GO operates. Service is currently available 7 days a week from 6:00 a.m. until 11:00 p.m.
Question 3:  Am I eligible to take a UZURV ride?  
Customers that may safely ride in a standard passenger vehicle are eligible to be assigned services provided through UZURV. A rider's specific service needs are determined at time of eligibility determination.  SacRT GO will continue to provide service for Riders who use mobility devices requiring the use of a lift.
Question 4:  How can I take a UZURV ride?  
The Scheduling and Dispatching Software uses real-time optimization and scheduling to make the trips more efficient. As the software schedules trips, it determines overflow and when/where the supplemental services are needed. The specific trips are determined from the demand—the need for supplemental services varies depending on the time of day, day of month, and month of the year.
Question 5:  Are UZURV vehicles owned by SacRT or UZURV?  
Vehicles operated by UZURV are owned by UZURV Drivers. Each UZURV Driver is required to perform daily pre-trip inspections as well as annual vehicle inspections while operating for UZURV.
 Question 6:  How many passengers can UZURV accommodate?
UZURV can accommodate the rider and two additional passengers in a standard passenger vehicle.  Presently, passengers are prohibited from sitting in the front seats of any vehicle.
Question 7:  How do I identify the UZURV vehicle and driver?
UZURV Drivers will be operating standard passenger vehicles. There will be a UZURV logo and SacRT GO logo displayed on the front left windshield of the car. Additionally, Drivers are required to identify themselves and present their UZURV Driver ID to the rider before ride execution of the Trip.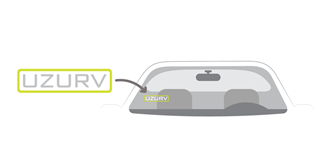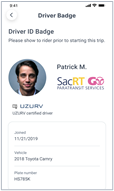 Note: Starting September 11, 2023, UZERV vehicles are using a window decal on the front windshield.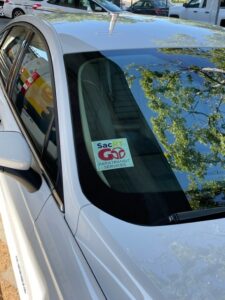 Question 8:  What rider information does SacRT GO provide to UZURV?
SacRT GO provides UZURV with the rider's name (First and Last), rider contact number, rider fare type, pick-up address and drop-off address, notes and trip information (including door location and gate codes), and other helpful information to ensure UZURV drivers pick-up and drop-off at the correct location.
Question 9:  Will SMS text messages be sent to riders to notify them that the trip is a UZURV or SacRT GO trip?
Riders whose trip is provided by UZURV will receive a SMS text message the day before and another SMS text message when the UZURV Driver is estimated to be 10 minutes away from their pickup location.
Riders whose trip is provided by SacRT GO will receive a SMS text message when the driver is estimated to be 30 minutes away from their pickup location. Riders must subscribe to SMS text messaging service to receive notification text messages.
Question 10:  What assistance will UZURV Drivers provide?
In accordance with SacRT GO Rider's Guide, UZURV drivers will provide door-to-door service.  Both SacRT GO and UZURV Drivers will accompany passengers to and from the main door of the pick-up location and assist passengers with boarding and deboarding.
 Question 11:  How are complaints and commendations about UZURV addressed?
Riders can submit complaints and commendations by contacting SacRT's Customer Advocacy Team at (916) 321-2877(BUSS), Option 3, then Option 6.
All complaints and commendations are fully investigated or verified, and appropriate action is taken by UZURV's Rider Support and Engagement Team.  SacRT monitors all comments, complaints, and commendations.
Question 12:  Can I ride UZURV if I am traveling with a service animal?
Yes.  Service animals must remain under the physical or verbal control of their handlers throughout the ride and should sit or lie on the vehicle floor at all times. UZURV has a strict zero-tolerance policy towards any driver who knowingly denies access to passengers traveling with service animals.