SacRT Implements August 2023 Service Adjustments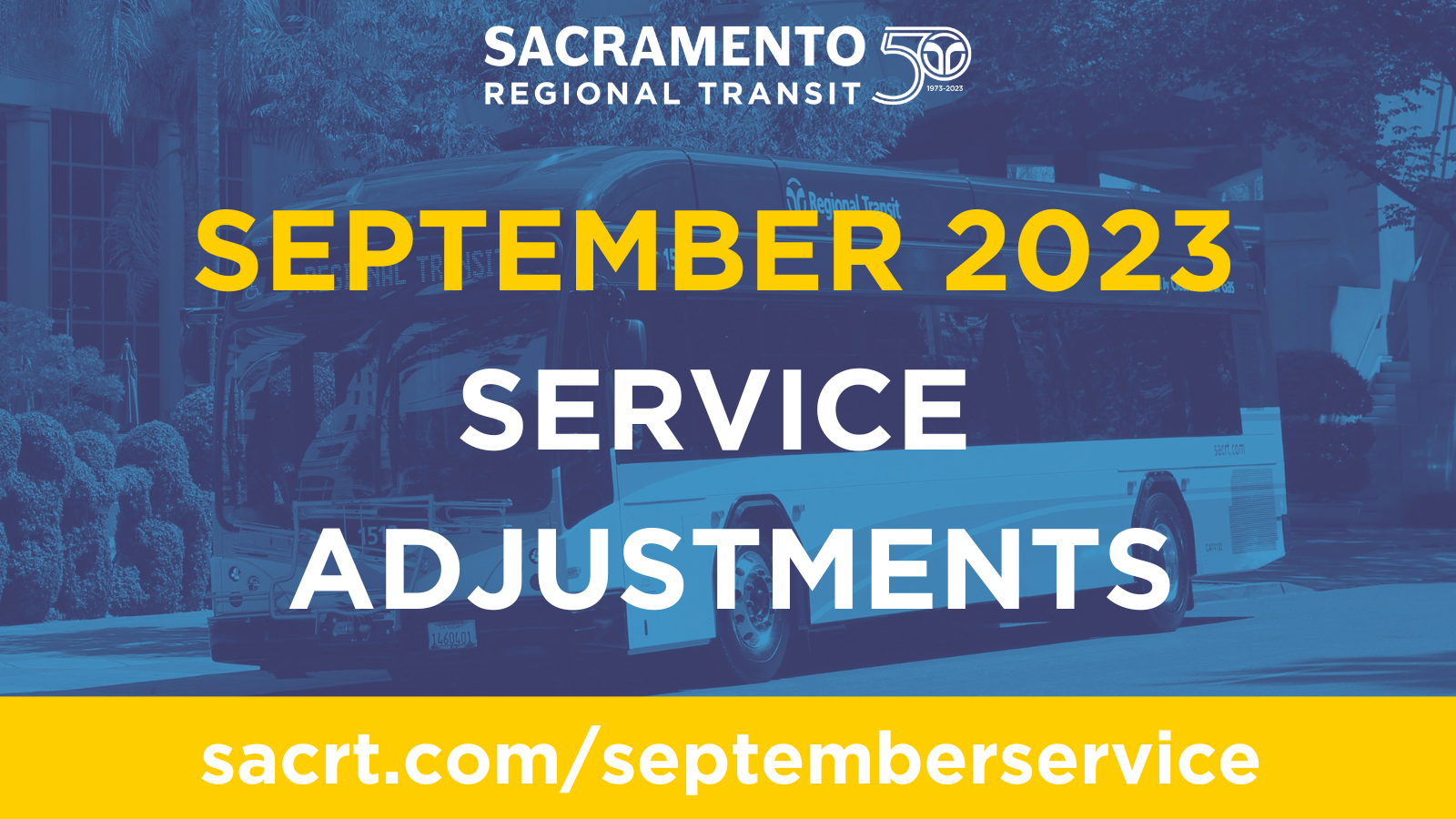 The Sacramento Regional Transit District (SacRT) is announcing upcoming service adjustments aimed at enhancing efficiency and better connectivity for bus riders and making updates to the SmaRT Ride on-demand microtransit services.   
Bus Service Adjustments
Effective Sunday, August 27, 2023 
As part of its commitment to delivering reliable transportation services, SacRT will implement minor adjustments to two bus routes to better align schedules with passenger needs. 
Route 19 (Rio Linda):

The schedule timepoint for Route 19 will change from Rio Linda and Pinedale to Rio Linda and Main Street. The trip time will shift one minute later heading toward the Arden/Del Paso Station, and one minute earlier heading toward Watt and Elverta at the new timepoint. 

 

Route 61 (Fruitridge):

On Saturdays, trips departing from Florin Towne Centre will start three minutes later, optimizing connections at the Fruitridge light rail station. All other times will be adjusted accordingly. 

 
SmaRT Ride Shuttle Zone Adjustments
Effective Monday, August 28, 2023  
Recognizing the need for flexible transit solutions, SacRT's SmaRT Ride on-demand shuttle service will undergo adjustments to three service zones, resulting in changes to hours and service coverage. Despite funding challenges, SacRT remains dedicated to serving the community efficiently. 
Citrus Heights-Antelope-Orangevale Zone:

Service will discontinue south of Madison Avenue, north of Elm Avenue, and east of Wachtel Way. New service hours will span from 7 a.m. to 7 p.m. Alternative fixed-route options include bus routes 21 and 23.

 

Downtown-Midtown Zone:

The service zone east of Alhambra Boulevard (East Sacramento) will be discontinued.  The new service hours will match those of other zones, from 7 a.m. to 7 p.m. Alternative fixed-route options encompass light rail and bus routes 30, 38, and 134.

 

Florin-Gerber Zone:

The service zone will expand north from Fruitridge Road to include underserved areas bound by 14th Street, Power Inn Road, and Stockton Boulevard. This expansion aims to provide better coverage for the community.

 
Enhanced SmaRT Ride App 
In line with offering customer-centric solutions, SacRT is introducing an enhanced SmaRT Ride app. The update will empower riders to access a comprehensive array of transit options even when SmaRT Ride shuttle service is temporarily unavailable due to high demand or other factors. The free app will offer real-time updates, route exploration, and convenient alternative transit suggestions to ensure a seamless travel experience. 
For more information about these service changes and to access the new schedules and maps, please visit sacrt.com/septemberservice. SacRT remains dedicated to providing efficient, accessible, and innovative transportation solutions for the Sacramento region.