SacRT is Hiring Operators for Elk Grove Transit Services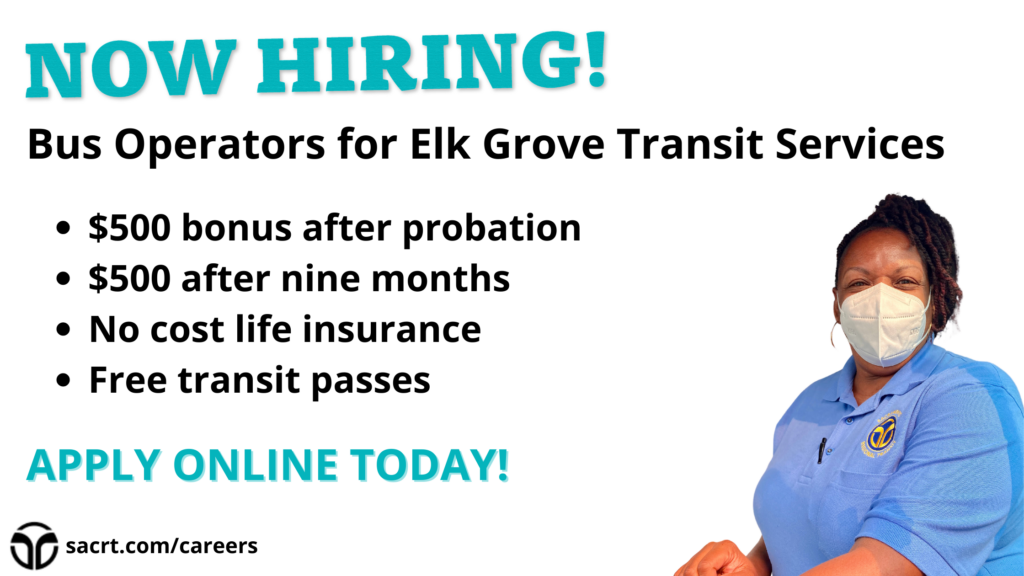 SacRT  is bringing the City of Elk Grove's transit services into the district on Thursday, July 1, 2021, and SacRT is looking to hire more bus operators for the Elk Grove service area.
The Elk Grove service area employs full-time and part-time employees for this position (positions start as part-time and move to full-time based on seniority) and SacRT is offering an operator incentive program. Applicants will receive $500 upon completion of the probationary period and an additional $500 after nine months on the job. Employees also receive no cost life insurance and free transit passes for themselves and their dependents.
Examples of Duties
Operates assigned coaches by following safe, defensive driving practices.
Maintains schedules, follows prescribed routes, collects fares, validates passes, operates radio, makes announcements, and enters announcements into automated system.
Performs special services assignments such as coach bridges, fill services and acting as a replacement driver when needed.
Performs pre-trip safety inspections, identifies potential safety concerns, and promotes passenger safety awareness.
Reports coach trouble/malfunctions, traffic problems, road hazards and accidents
Minimum Qualifications
Education:  High School Diploma or equivalent.
Experience:  Two years of customer service experience that includes providing information and/or assistance directly to the public OR one year of previous transit operator experience. Three years of verifiable driving experience with a satisfactory driving record as determined by SacRT. Must be at least 21 years of age.
Apply online today at sacrt.com/careers or call 916-556-0298.