SacRT on the Move: Short-Range Transit Plan
SacRT on the Move is the Short-Range Transit Plan (SRTP) for the Sacramento Regional Transit District (SacRT). All transit agencies that are direct recipients of federal funds are required to have an approved SRTP. This plan makes recommendations looking forward over the next five years. The SRTP was approved by the SacRT Board of Directors on May 9, 2022 at the regularly scheduled board meeting.
In September 2019, SacRT implemented the SacRT Forward project, which brought a more frequent service to the region seven days a week, and in 2020, the COVID-19 pandemic changed travel patterns everywhere. In this SRTP update, SacRT considered the existing data and trends to establish a plan for transit service and operations through FY2027. This plan was developed to help guide SacRT's system on continuing the goals of SacRT Forward and recovering from pandemic impacts.
The FY2022-2027 SRTP contains information including, but not limited to:
Service Planning and Evaluation
Transit Service Operating Plan
Capital Improvement Planning
Strategic Planning and Marketing
The SRTP includes a 'Five-Year Service Plan' (Appendix H), which contains service improvements for the plan period and considers enhancements such as span and frequency improvements, pandemic recovery, and ridership building initiatives. The service plan items were also developed with SacRT's Network Integration Plan in mind, as well as public feedback.
Review the Adopted SRTP Document here.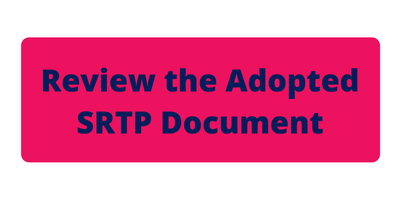 Click here for information on proposed service improvements in other languages (Español, русский, 中國人, Tiếng Việt, Hmoob, عربي).
The SRTP draft document was presented to the SacRT Board of Directors at the Monday, May 9, 2022 meeting. The Board of Directors approved the SRTP.
The formal public comment period for the Draft SRTP ended Thursday, March 17, 2022. The public actively participated during SRTP virtual events and public meetings, making public engagement efforts a huge success. SacRT received just over 90 comments which were analyzed and considered for potential final changes to the draft document. All comments were included into a public comment record, which was presented with the SRTP document to the Board of Directors on May 9. Any comments received after May 1, 2022 were not included in the public record. Members of the public were welcome to the May 9 Board meeting and give their comments on record.
We listened! As a result of comments received, the following has been updated to the Five-Year Service Plan:
A new service concept has been added to provide fixed-route bus service to Duckhorn Boulevard in the North Natomas area. This area has been without transit service due to low demand; however, as developments continue to grow and more individuals reside near this area, SacRT felt the need to include this as a planned service improvement for the next five years.
For questions about the project, please contact Sarah Poe.
Email: 
spoe@sacrt.com
Call:
916-556-0518 
Mail:
Attn: Sarah Poe
2811 O Street
Sacramento, CA 95816
---
PAST SRTP MEETINGS
Tuesday, March 8, 2022 at 5:30 p.m. to 6:30 p.m.
SacRT held a virtual public meeting to go over the draft Short-Range Transit Plan and take public comment. View the video recording.
Tuesday, March 1, 2022 at 2:30 p.m. to 3:30 p.m.
SacRT held a virtual public meeting to go over the draft Short-Range Transit Plan and take public comment. View the video recording.
Thursday, February 10, 2022 at 4 p.m. to 5 p.m.
View the questions and answers from that session at this link.
SacRT kicked off the SRTP public involvement in November 2021 with two virtual open house events! These events saw great attendance with over 30 members of the public participating in the events. SacRT staff successfully shared updates and provided opportunities for the community to share their thoughts and ideas about future service plans for the region
Wednesday, November 10, 2021, at 6 p.m. to 7 p.m.  
Wednesday, November 17, 2021, at 2 p.m. to 3 p.m. 
View the Frequently Asked Questions (FAQs) from the November virtual open house events
For those that were not able to attend a virtual event, there will be additional opportunities to get involved and stay informed of the latest project updates.  A 'Schedule of Outreach' is under construction and will be posted online and shared via social media as soon as it is available. 
Alternative formats and translations are available upon request.
SRTP Project Timeline:
May 2022 – SRTP was approved by the SacRT Board of Directors