'You'll always be special in my heart.' SacRT riders celebrate our 50th year with heartfelt messages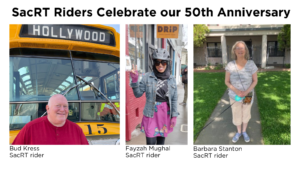 You don't spend 50 years serving the public without making friends along the way.
So, it's no surprise that several riders sent us messages of congratulations and appreciation this spring as we commemorated our 50th anniversary. SacRT was launched a half-century ago on April 1, 1973, as the first regional bus service in fast-growing Sacramento. We added light rail in 1987.
Their words affirm the connection transit agencies often have with their riders. We are part of each other's daily lives and built into the fabric of our community.
Longtime rider Bud Kress emailed to say our bus drivers in particular served as friends and mentors when he was younger. Later, he also found friendship among other riders heading to and from work.
"I am the person I am today because drivers cared about this kid, gave advice and mentored, shared stories and laughter," Kress told us. "Plus, later, the group of workmates riding to and from work every day."
His most indelible memories include one day riding the bus when it was snowing in Sacramento. Another time, he and a bus driver rushed to help a woman who was having a medical emergency on the street.
"Happy anniversary SacRT," Kress wrote to us. "You will always be special in my heart."
Keith Martin, who first rode with us in 1979 as a college student, subsequently found his way into a 44-year career in public transit, thanks in part to his early experience with us. He is now executive director of Yuba-Sutter Transit, a sister agency to SacRT.
"I have never forgotten what it was like as a first-time bus passenger," he wrote to us. "Congratulations to SacRT on 50 years of service and thanks for birthing in me a love for helping people do life on the bus every day."
We got an unnamed thank you in Spanish from a grandmother whose granddaughter gets to school every day on SacRT, and will graduate on time thanks in part to our service: "Mil gracias por su servicio," she wrote, "pues gracias a ello mi nieta se graduará en tiempo de su high school," she shared.
Barbara Stanton of RiderShip for the Masses, an advocacy group for transit riders since 2001, attends board meetings to offer ideas, encouragement and critiques and says it's always a pleasure to work with staff to resolve issues. She has been riding since 1978.
Fayzah Mughal of Rancho Cordova wrote to say it's a small world. She once called SacRT customer service for help and was pleasantly surprised by the "excellent" service. It turns out that the Customer Service Representative who helped her – "an amazing lady" – lives near her in Rancho Cordova, and was trained by a now-retired neighbor of hers. " 'It's a Small World' moment for sure, but it also proved to me that Rancho Cordovans are special individuals (but I might be biased)."
Rider Ceni Moore shared how SacRT served as a support system when she was struggling. "SacRT services held me up. When I needed food/house supplies, I hopped on the Gold Line and did all my shopping off of the Zinfandel Station exit. When I felt overwhelmed or sad, I took light rail downtown and treated myself to a day of sightseeing in Old Sac."
She concluded, "My SacRT story is this: Where there is a will, there is a way. If you find yourself in need, SacRT can help you get to where you need to go. Keep on moving forward."
---
SacRT Celebrates with 50th Anniversary Pop-Ups in April 2023