SacRT How to Ride Guide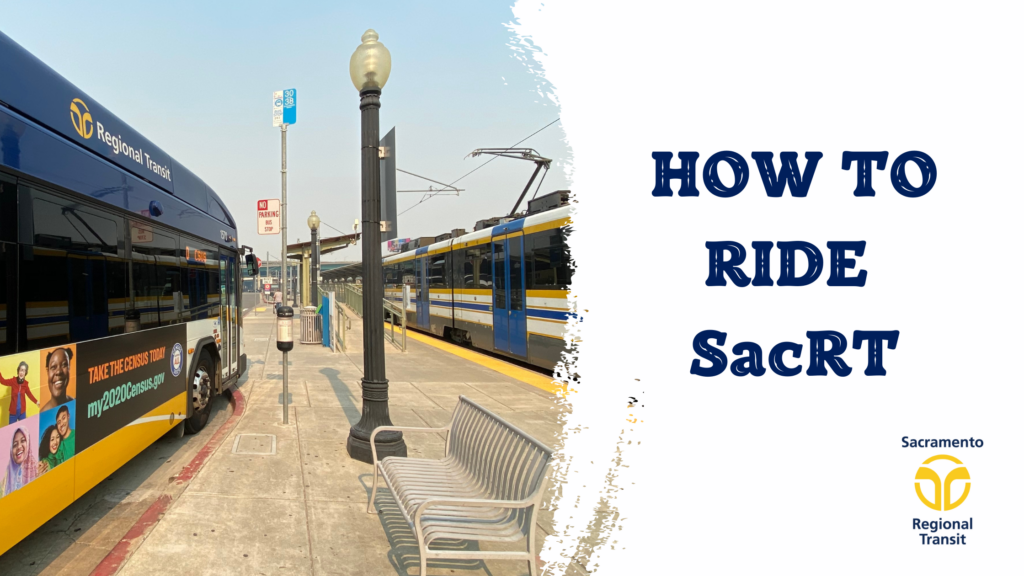 SacRT operates 365 days a year, the entire bus and light rail system is accessible to the disabled community. One hundred percent of SacRT's fixed-route bus and light rail service is wheelchair accessibleIn addition, SacRT buses have racks that hold either two or three bicycles, so you'll be able to bike and ride nearly anywhere, any time!
Plan Your Trip
There are several methods available to help plan your trip: 
Online:
Trip Planner: sacrt.com/planyourtrip
Schedules: sacrt.com/schedules
Phone:
916-321-BUSS (2877)
Weekdays: 6:00 a.m. to 7:30 p.m.
Saturday and Sunday from 7:00 a.m. to 4:00 p.m.
In Person:
Customer Service and Sales Center
1225 R Street (adjacent to the 13th Street Station)
Weekdays: 8:30 a.m. to 5:00 p.m.
Closed weekends and most holidays
Note: Printed timetables are available at SacRT's Customer Service and Sales Center.
Be prepared to answer the following questions:
Where are you traveling from (address)?
Where do you need to go (address)?
---
SacRT Schedules
Find all SacRT schedules online at sacrt.com/schedules.  
---
How to Ride Light Rail
4 Easy Steps to Ride Light Rail
Purchase a ticket or pass. If you are using a pre-paid paper ticket or pass, you must validate it in the slot on the fare vending machine before boarding. Passengers who fail to show proof of payment may be cited.

 

Signage will identify which side of the station platform to stand. For your safety, stand behind the yellow caution strip.

 

As the train arrives, check the head sign to verify you are boarding the correct train. Once the train has come to a complete stop, push the button on the door to enter.

 

Listen and watch for your stop. Push the button to open the door, and exit.

 
---
How to Ride the Bus
4 Easy Steps to Ride the Bus
Find your bus stop and stand by the sign. Have exact change ready, or use the convenient Connect Card, or ZipPass app. When the bus approaches, look for the route name and number on the top front of the bus. Wave to the bus operator to stop.

 

Board the bus and place exact change in the fare box (bills or coin), show your valid pass, or activated mobile pass or tap your Connect Card.

 

One block before your destination, pull the overhead cord once to ring the bell, which also turns on the "request stop" light.

 

Exit through the back doors.

 
---
Other Transit Services
SacRT also provides other transit services including on-demand SmaRT Ride microtransit service called SmaRT Ride and SacRT GO paratransit services.
Learn more about those services: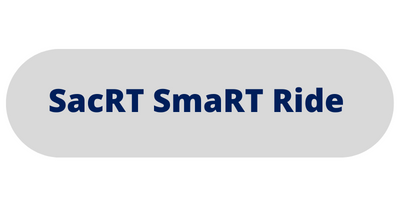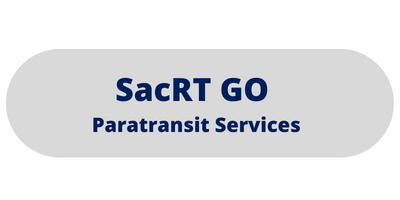 ---
Attention Light Rail Riders
Please Take a Seat or Secure A Standing Position Before the Train Departs. For your safety, SacRT asks riders to quickly find their seat or secure a standing position before a light rail train departs. Operators will make announcements for riders inside of the train prior to the train pulling away from the station. If riders need additional time to board and get to their seat, they can make the operator aware by using the boarding ramp at the front of the light rail train.
In an effort to ensure that priority seating is available for persons with disabilities traveling on the bus and train, and for the safety of passengers and young children, riders are prohibited to board with an open utility cart or stroller. Prior to boarding, utility carts and strollers must be folded, and once onboard, they must be stored out of the aisle so that they do not block areas reserved for persons using mobility devices such as wheelchairs, or pose a tripping hazard for others.
---
SacRT Mobile Apps
(Available free at the App Store and Google Play)
Download SacRT's free mobile fare app and set up a secure account to purchase, save and activate tickets and passes right from your smartphone.
Safety and Security Reporting App: Alert SacRT
Alert SacRT offers riders a quick and discreet method for reporting safety and security concerns directory to SacRT Police Services using a smartphone or tablet. App users can send photos, six second video, text descriptions and locations of suspicious people or activities.
SmaRT Ride App: SacRT SmaRT Ride
The SacRT SmaRT Ride app allows you to request rides on SmaRT Ride. SmaRT Ride is similar to other ride-share services where customers can use a smartphone app to request a ride that will pick up and drop off passengers within the service boundaries.
---
Fares
Plan ahead and purchase your tickets and passes in advance! Download SacRT's mobile fare app, ZipPass, from the App Store or Google Play, or order your Connect Card (the region's smart card) from connecttransitcard.com. All riders pay Basic fare unless eligible for Discount fare.
Discount fares apply to seniors (62+), Medicare cardholders and persons with disabilities. To qualify for the Discount fare, acceptable documentation is required as specified in SacRT's adopted Fare Structure Policy.
SacRT daily and monthly passes are valid for unlimited rides on buses and light rail trains for the date or month shown on the pass.
Students/youth in grades TK – 12th that live or go to school within SacRT's service boundaries are eligible for free fare transit. Learn more at www.rydefreert.com
---
Convenient Payment Options
Connect Card:
Go cashless and enjoy the convenience of a smart card that provides online account services and security, easy transfers on bus and light rail (free 90 minute transfer using a valid single ride ticket) and regional connectivity. You can load tickets and passes online or at participating retail outlets. Visit connecttransitcard.com for details.
ZipPass:
Download SacRT's free mobile fare app and set up a secure account to purchase, save and activate tickets and passes right from your smartphone (free 90-minute transfer with single ride ticket).
Cash Fare:
Accepted on SacRT buses and light rail fare vending machines. Exact change is required on buses since operators don't carry or give change. Light rail fare vending machines don't accept bills larger than $20.
Credit Card: Accepted at most SacRT light rail fare vending machines and online for specific types of tickets and passes.
Contactless Fare Payment: SacRT light rail riders can tap to ride using contactless fare payment devices on all light rail trains. The innovative touch-free fare payment technology allows riders to tap a contactless credit, debit, prepaid card, or contactless-enabled mobile or wearable device (e.g., smartwatch) to pay fare when boarding light rail trains. Learn more at sacrt.com/contactless.
---
Accessible Services
All SacRT buses are equipped with lift platforms that can accommodate up to 600 pounds, and most SacRT buses "kneel" by lowering the front steps for easier boarding.
SacRT buses and light rail trains have reserved seating for seniors and persons with disabilities.
SacRT light rail stations offer accessible parking and pathways, station identification signs in raised print and braille, mini-high platforms and door indicators for boarding the train.
For information about SacRT Go Paratransit Services, visit sacrtgo.com.
---
Safety & Security
Security improvements continue to be a major priority for SacRT, and our system has never been more safe or efficient. SacRT has invested in new technology, including surveillance cameras, public address system, free reporting app (Alert SacRT) and a 24/7 security operations center to make sure our riders are safe.
---
Bike-and-Ride
SacRT is bicycle friendly by providing more opportunities for bicyclists to combine biking with riding SacRT bike racks on buses, bikes on trains and bike lockers at 25 light rail stations.
Bike-and-Ride on Bus
One hundred percent of SacRT's buses have racks that hold either two or three bicycles, so you'll be able to bike and ride nearly anywhere, anytime on SacRT buses! Bike racks are available on a first-come, first-serve basis. Bikes are not allowed inside SacRT buses unless it is the last bus on the route that day, and the bike carrier is full.
Bike-and-Ride on Light Rail
Bringing your bike on SacRT has never been so easy. Buy your fare and board. In the older Siemens light rail trains, simply place your bike in the rear or front of the car next to the flip-up seats. The newer CAF light rail trains are equipped with four bike racks. Simply place your bike in the rack located in the front and rear of each car next to the flip-up seats. Please enter through the rear or front doors after all other passengers have entered or exited the light rail car. Bicyclists can board light rail every day at all hours of operation.
SacRT allows four bikes per car, two in the front and two in the back, on multi-car trains. However, in the first car no bikes are permitted at the front of the car, which is reserved for individuals with disabilities.
Note that passengers have priority over bicycles, and SacRT reserves the right to ask bicyclists to exit if the bus or train becomes full.
Learn more at sacrt.com/bikeandride.
---
Park-and-Ride Stations
SacRT has 22 free park-and-ride lots with a total of 10,000 parking spaces.
The Cosumnes River College Parking Lot is $2 per day or $20 per month. More info at sacrt.com/fares/ppr.aspx
---
Information