50th Anniversary Information – FOR SACRT EMPLOYEES
Moving the Sacramento Region for 50 Years
April 1, 2023 marks SacRT's 50th anniversary of operation, and we're celebrating this important milestone by looking back at our history and celebrating what is still to come.  
To kick-off the celebration, we are offering free rides on Tuesdays on fixed-route bus and light rail every Tuesday during the month of April 2023, on April 4, April 11, April 18 and April 25.   
We are also hosting public pop-up events at different light rail stations and transit centers across the region during the month of April.  
More information about the celebration plans will be available soon at sacrt.com/50years.  
---
Celebrating 50 Years at the Ballpark!
In celebration of 50 years of service, SacRT employees are invited to a Sacramento River Cats game on Sunday, April 23 at 1 p.m.  This is for active SacRT employees only.
You need to sign up by Friday, March 31. To sign up, please use this online form:
For questions, please email: events@sacrt.com
---
Our 50
th
Anniversary Logo
We are rolling out a 50th Anniversary version of the SacRT logo to celebrate our 50 years of service. You will start seeing the new logo on different promotional materials soon and will be featured on a special 50th Anniversary bus and train.  
---
We want to hear your SacRT Story!
We are asking riders, community members and our employees to share their SacRT story with us. We have a special 50th Anniversary webpage with a form to click and share your story.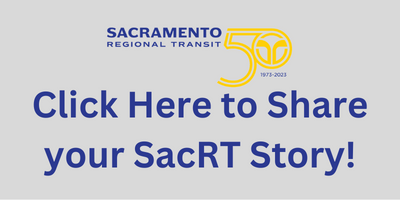 ---
 A great agency is made up of great employees. Meet SacRT veterans Anita, Joyce, and Bonifacio
The Sacramento Regional Transit District (SacRT) is a seasoned and experienced agency with a 50-year record of public service. If you look under the hood, you'll see why:

 

it's because of our employees.

 

Our SacRT employee ranks are over 1,300 strong, some of whom have worked here for two, three, and even four decades. No celebration of our 50th anniversary in business would be possible without them.

 

Here is a visit with three of the SacRT team's longest-tenured employees, each of whom brings a distinct personality and energy to the job. And, a combined 111 years of service. Read more.
---
50 Years of Service on Display 
Stop by the SacRT Administrative offices auditorium to take a look at the historic items on display. Let us know if you have anything interesting from our past that should be included! 
---
The Celebration Continues!
We will continue to celebrate our 50th Anniversary throughout the year. More information to come!