A great agency is made up of great employees
Meet SacRT veterans Anita, Joyce, and Bonifacio
The Sacramento Regional Transit District (SacRT) is a seasoned and experienced agency with a 50-year record of public service. If you look under the hood, you'll see why: it's because of our employees. 
Our SacRT employee ranks are over 1,300 strong, some of whom have worked here for two, three, and even four decades. No celebration of our 50th anniversary in business would be possible without them. 
Here is a visit with three of the SacRT team's longest-tenured employees, each of whom brings a distinct personality and energy to the job. And, a combined 111 years of service:
Anita Ollero, customer service representative
Anita discovered long ago, 'Helping people is my calling'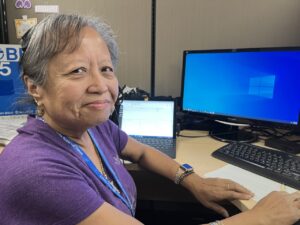 Length of time at SacRT: Anita joined SacRT 34 years ago, in 1989. "A family friend said SacRT was a good company to work for. It is. I've met a lot of people I love here. It's like family." 
Describe your job: "I tell people where to go," she jokes. "I help them get places. I like helping. I feel like it is my calling. I transferred to finance once, but I came back to customer service. This is more me." 
Adjectives for Anita: Caring, loyal, personable, and outgoing.  "Ask anybody, I'm an open book. I like to talk." 
Favorite customer: "Her name is Nicole. I've known her since she was going to school. Now she works. It's amazing. She calls and says, 'You're still there!'" 
What are your hobbies?: Cheering for the Kings. And travel, especially to islands. "Any island. The Hawaiian Islands. Jamaica. I love meeting different cultures. Oh, and I love Las Vegas. Every culture is there." 
What people may not know about her: Anita studied communications in college. And she teaches catechism at her church. 
Comment about SacRT 50th anniversary: "SacRT is a service that people use and some people really need it. I'm glad we can provide that. We need to get places and do things. I am proud of this company." 
---
Joyce Adams-Watkins, bus operator
Her dad told her, 'You can drive a bus. You can do anything.' 
Length of time at SacRT: Joyce Adams-Watkins first got behind the wheel of a SacRT bus 43 years ago in 1980 (at a starting pay of $5 an hour). Today, she is the longest-tenured employee at SacRT. 
She has a few nicknames: In the operator breakroom, drivers respectfully call her "number one." Some also call her Mama Joyce or Ms. Joyce, including younger females, one of whom recently said: "You remind me of my mom!" 
Are you a trailblazer? Rosa Parks was the trailblazer, Joyce says. Joyce's dad, Andrew Adams, was one, too. He drove buses in the 1960s and '70s and is the person who suggested she apply: "You can do that," he said. "You can do anything." 
What's it like being a driver? "I love it. I feel comfortable. I've had some tough days, but you deal with it." 
Transit runs in the family: Not only did her dad work in transit in Sacramento, Joyce's son, Aswad Hanson, is a supervisor with SacRT police services. 
Adjectives for Joyce: Strong-willed. Proud. Careful. "A smooth operator," she says with a grin. "I'm really cautious. In order to prevent an accident, you have to look out for one."  
What was a memorable moment with a rider? A distraught woman boarded once. "You OK?" Joyce asked. The woman told her about an abusive relationship. Joyce talked with her and gave her an agency to contact for assistance. "Thank God I could help." 
Comment about SacRT 50th anniversary: "This is a great place to work. It's helped me take care of my family."  
---
Bonifacio Torres, assistant mechanical worker
'Bonnie' is about camaraderie. 'I like being part of the crew.'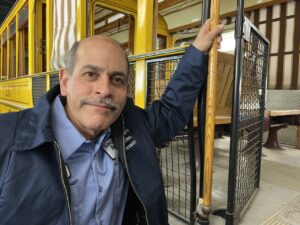 Length of time at SacRT: "Bonnie" started here May 22, 1989. One day, 34 years ago, he was out walking and just walked into SacRT human resources and saw a service worker job listing on the board. "I'm mechanically inclined. I knew I would get that job." 
Describe your job: Bonnie works the 6 p.m. to 2 a.m. shift. "I do inspections of light rail vehicles to make sure they are in acceptable operating condition. I definitely want to make sure of that. I don't want to see that car coming back here with my number on it! We do about 70 inspections a week and general preventive maintenance." 
Describe yourself: "I'm hyper. That, I know I am! And happy. I'm willing to help, I'm willing to be part of the crew." 
What do you like about SacRT? The camaraderie, the diversity, the union contract. And, he appreciates the fact that, "you need to work hard. You need to be able to do your job."  
What people may not know about Bonnie: He loves shows about architecture and art. Plus, he's into classic cars. "My brother and I have gone through a lot of cars." He currently owns a restored '65 Chevrolet Impala Super Sport anniversary edition. He had it painted orchid with a black vinyl top.  
Comment about SacRT's 50th anniversary: We have good contracts. And I think SacRT is moving in an upward direction. SacRT is very diverse. That's one good thing in general, they are very diverse." 
---
Interested in a career with SacRT, we are hiring! Help us continue moving the region for the next 50 years and apply online now at sacrt.com/careers.