Bus and SmaRT Ride Service Changes Began Sunday, April 4, 2021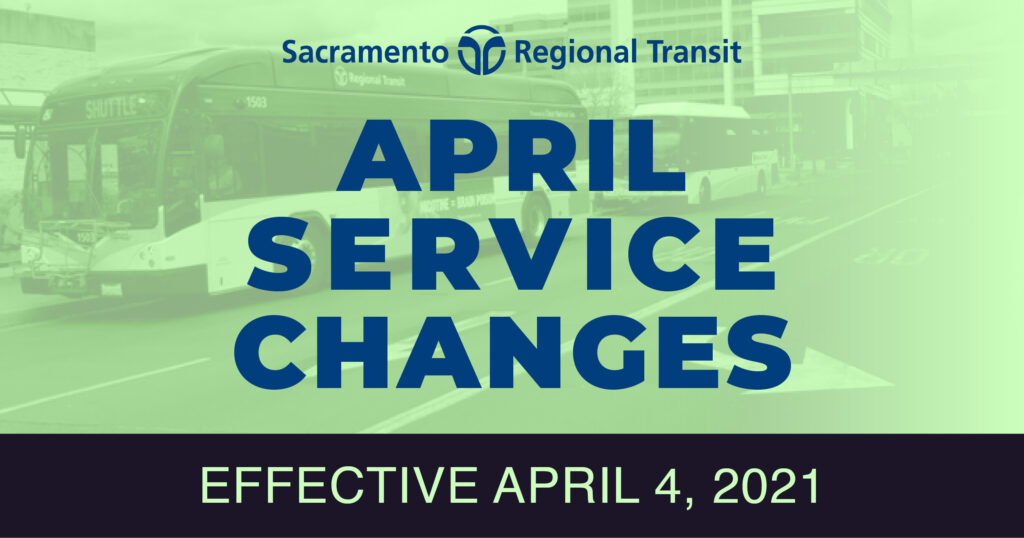 Route 23: El Camino (Saturday)
To improve connections at the Arden/Del Paso light rail station, the 7:05 a.m. trip from Sunrise Mall now leaves five minutes earlier at 6:58 a.m.
Route 26: Fulton (Monday through Friday)
To improve connections with the Blue Line, the 5:16 a.m. and 5:36 a.m. trips between Watt/Elverta and Watt/I-80 shifted two minutes later with trips departing at Watt/I-80 at 5:43 a.m. and 6:03 a.m. Trip times south of Watt/I-80 did not change.
Route 61: Fruitridge (Saturday)
To improve connections at Rush River/Windbridge, the 7:05 a.m. and 8:05 a.m. trips now leave Florin Towne Centre five minutes earlier. All other times have shifted accordingly.
Route 138: Causeway Connection (Monday through Friday)
Trips leaving the UCD Medical Center at 3:10 p.m., 4:10 p.m. and 5:20 p.m. now have five additional minutes between the UCD Medical Center and the Mondavi Center. All other times have shifted accordingly. Visit causewayconnection.com to view the updated schedule.
200 Series 

SacRT has resumed the 200 series bus service as of Monday, April 5, 2021. SacRT is also adding additional trips on several 200 series routes to meet expected demand beginning on Thursday, April 22, 2021. For more information call 916-321-BUSS (2877).
Three SmaRT Ride Zones Expanded
To better serve residents of Arden, Carmichael, Folsom, Natomas and North Sacramento, SmaRT Ride zones in those communities expanded on Monday, April 5, 2021.
The Arden-Arcade zone merged with Carmichael creating the Arden-Carmichael zone, which provides service to Kaiser Morse and American River College.
The Folsom zone expanded to serve the developing community of Folsom Ranch, south of Highway 50.
The North Sacramento zone expanded further into Natomas serving Arena Boulevard shops, Garden Highway, River Oaks, Gateway Oaks, the University Technical Institute and North Natomas Regional Park tobecome the Natomas-North Sacramento zone.
These service areas offer corner-to-corner service where passengers are picked up and dropped off at the nearest corner or 'virtual bus stop,' which is usually within a block or two of the pickup or drop-off location. Residents living in gated communities need to board the SmaRT Ride shuttle at the main entrance gate.
Visit sacrt.com/smartride for details.