Ride Free on SacRT's 2021 Holiday Bus!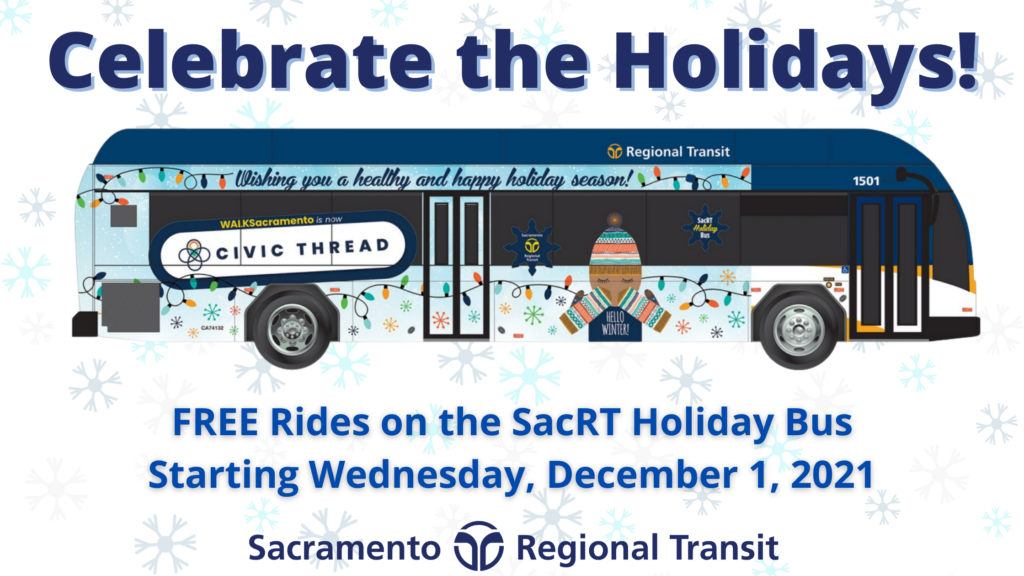 SacRT continues its annual holiday tradition by offering free rides on the SacRT Holiday bus beginning Wednesday, December 1, 2021 through Sunday, January 2, 2022. The decorated 40-foot bus will travel on various routes throughout the region.
Passengers have the opportunity to deposit a donation in the farebox (cash accepted), use a QR code or link to donate online to benefit Civic Thread, formerly known as WALKSacramento.  
Since 1998, Civic Thread—formerly WALKSacramento—has been on a mission to empower institutionally underserved communities to achieve healthy built environments. Learn more and donate directly at https://www.paypal.com/donate/?hosted_button_id=EVVQH9WAZ3E26.   
View the schedule to find out when the Holiday Bus will be traveling to a neighborhood near you!
Wednesday, December 1, 2021 – Route 51
Thursday, December 2, 2021 – Route 82
Friday, December 3, 2021 – Route 1
Saturday, December 4, 2021 – Route 11
Sunday, December 5, 2021 – Routes 67, 68
Monday, December 6, 2021 – Routes 86, 25
Tuesday, December 7, 2021 – Route 13
Wednesday, December 8, 2021 – Route 19
Thursday, December 9, 2021 – Routes 15, 88, 1
Friday, December 10, 2021 – Route 81
Saturday, December 11, 2021 – Santa Parade
Sunday, December 12, 2021 – Route 21
Monday, December 13, 2021 – Routes 56, 62
Tuesday, December 14, 2021 – Routes 75, 78
Wednesday, December 15, 2021 – Route 25
Thursday, December 16, 2021 – Routes 72, 161, 84, 26
Friday, December 17, 2021 – Route 142
Saturday, December 18, 2021 – Route 87
Sunday, December 19, 2021 – Routes 84, 26
Monday, December 20, 2021 – Routes 30, 38
Tuesday, December 21, 2021 – Route 61
Wednesday, December 22, 2021 – Routes 67, 68
Thursday, December 23, 2021 – Route 21
Friday, December 24, 2021 – Route 15, 23
Saturday, December 25, 2021 (Holiday) – Route 81
Sunday, December 26, 2021 – Routes 23, 15, 88
Monday, December 27, 2021 – Route 25
Tuesday, December 28, 2021 – Routes 93, 30, 38
Wednesday, December 29, 2021 – Route 81
Thursday, December 30, 2021 – Route 11
Friday, December 31, 2021 – Route 51
Saturday, January 1, 2022 (Holiday) – Route 1
Sunday, January 2, 2022 – Routes 86, 87