New Morrison Creek Light Rail Station Now Open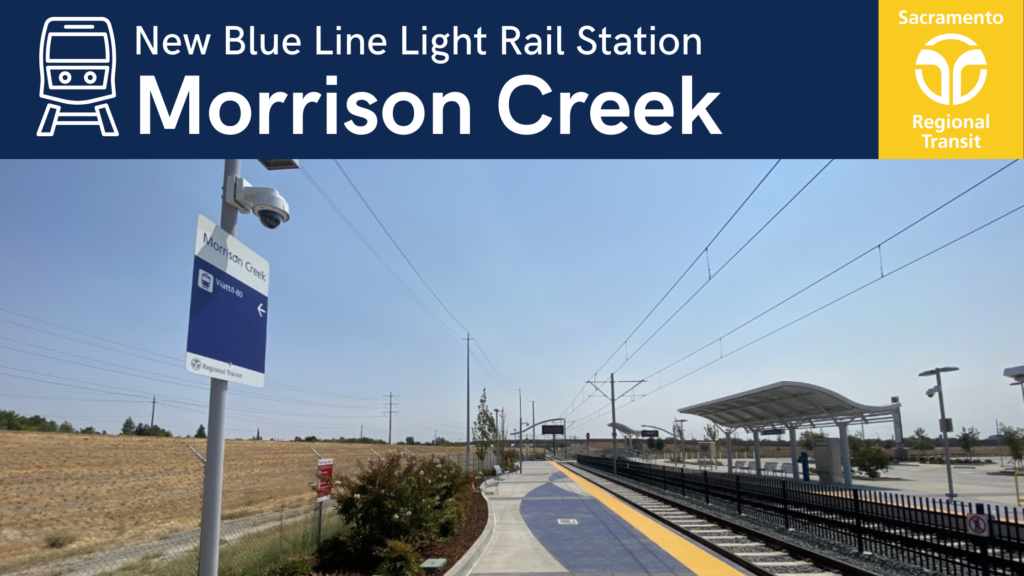 On Sunday, August 29, 2021, SacRT officially opened the new Morrison Creek light rail station along the Blue Line between the Meadowview and Franklin stations.
The station construction was initially deferred during the 2015 Blue Line expansion to Cosumnes River College in anticipation of transit-oriented development west of the station.
The Stone Beetland mixed-use transit village is anticipated to be a dynamic and active center of the community, with the Morrison Creek Station anchoring the eastern edge. The commercial component is envisioned to offer local retail goods and services, which will provide a walkable destination for residents, those using the SacRT system and for existing surrounding neighborhoods. The Morrison Creek station includes convenient bicycle and lighted pedestrian access.
Blue Line light rail riders must press the stop request button on light rail to request the train to stop at the Morrison Creek station.
With the opening of the new station, SacRT now serves 53 light rail stations within its 440-square mile service area, which includes service in the cities of Sacramento, Citrus Heights, Elk Grove, Folsom and Rancho Cordova, and Sacramento County.