SacRT partners with community advocates to make transit-riding easier for all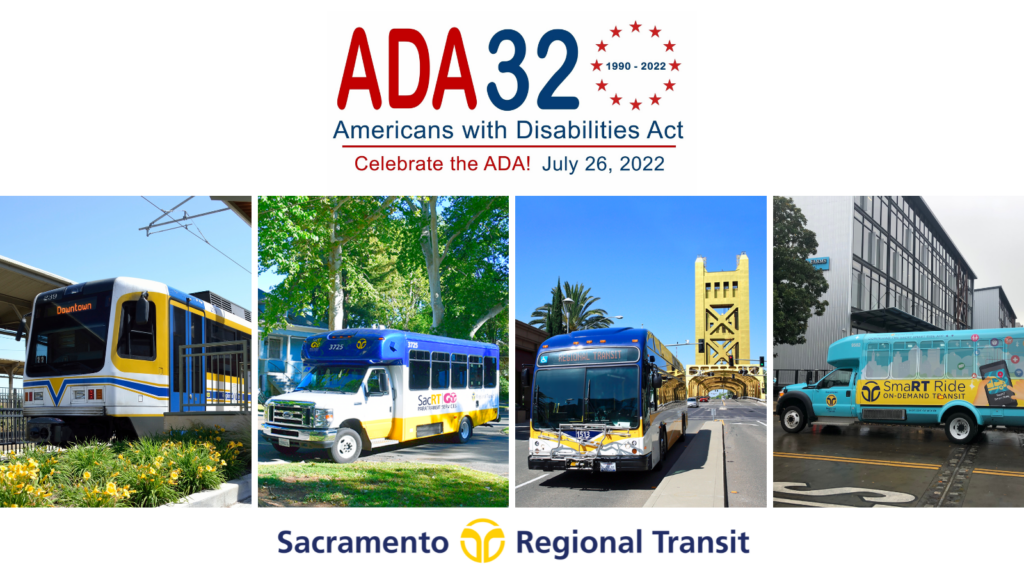 This week marks a milestone moment for both Sacramento Regional Transit District (SacRT) and an important group of loyal passengers. 
Thirty-two years ago, Congress created the Americans with Disabilities Act, a powerful civil rights measure that grants persons with disabilities equal access to all aspects of community life. 
Since then, transit agencies like SacRT have been at the heart of a national revolution in mobility, continually introducing new services and new technologies on vehicles, trains and at stations to help persons with disabilities and seniors travel more freely and live fuller lives. 
"The Americans with Disabilities Act is a landmark civil rights law that has transformed the public transportation landscape, ensuring equal opportunity, economic self-sufficiency, and equitable participation in every aspect of life," said Henry Li, SacRT General Manager/CEO. "I am proud of SacRT's paratransit service, SacRT GO, and our collaboration with our partners to operate an inclusive service model that takes a customers first approach to mobility." 
Riders with disabilities make up an estimated 15 percent of all SacRT users, some 7,000 per day. They are the fastest-returning group to transit in the post-COVID era. 
"Public transit is a huge part of accessibility," says Priscilla Vargas, SacRT's ADA Compliance Officer. "Our goal is to help people with disabilities get from point A to B using accessible public transit, it is all about promoting independence." 
Sacramentan Charles Johnson, a quadriplegic, is among those who rely almost entirely on SacRT to go to the doctor, the store, attend community meetings, meet with friends and visit his children. He serves on SacRT's Mobility Advisory Council (MAC), a group of community volunteers that works with SacRT on access and mobility improvements. 
"On a scale of 1 to 10, my appreciation for public transport is an 11," Johnson said. "It allows me to have a functional life. I couldn't do what I do without it." 
The Americans with Disabilities Act prohibits discrimination against individuals with disabilities in all parts of public life. That includes jobs, schools, transportation, and public and private places that are open to the general public. 
To serve that goal, SacRT operates a robust and multi-pronged mobility system that allows access for persons with disabilities, as well as non-driving seniors. 
SacRT's paratransit service called SacRT GO Paratransit Services, carries hundreds of people a day from their front door directly to their destination, whether that is a doctor's office, a shopping mall, a work site or for recreation. SacRT GO vehicles are equipped with lifts.

All buses are low-floor vehicles equipped with ramps and a kneeling feature that allows the bus operator to lower the bus. The ramp is deployed for customers using mobility devices, as well as those with mobility related issues. 

All light rail stations have ramps or lifts for mobility device accessibility except the 12th & I Station where only north-bound trains to Watt/I-80 are accessible. The modern new low-floor light rail vehicles will provide more accessibility, as persons in mobility devices will be able to enter from every door instead of just the front door of the lead light rail train.

And SacRT's microtransit SmaRT Ride app-based shuttle service allows people to request a ride that will pick them up either at or close by their residence and take them to locations within the service zone. SmaRT Ride shuttles are all equipped with lifts.
But the work is not done, says SacRT's ADA Compliance Officer Vargas. It remains a challenge to find more and better ways to make transit an easy experience for riders with disabilities. 
She and Johnson and other members of SacRT's MAC were out riding the Gold Line a few weeks ago, stopping at stations and taking notes. They are preparing to offer SacRT advice on a major upcoming accessibility feature, a fleet of "low-floor trains" that will allow wheelchairs to roll directly from the platform onto the train. 
Vargas, a long-time advocate for accessibility, is proud of the accessibility improvements that agencies have made since that historic legislation in 1990, and is eager to do more. 
"This is my passion," she said. "A lot has been accomplished. I feel we are moving in a good direction." 
SacRT ADA and accessibility information: 
SacRT's main ADA and Accessible Services web page is at: http://sacrt.com/accessible/ 
SacRT's ADA Compliance Officer is reachable at (916) 321-BUSS (2877), Option 2 then Option 1. Or by emailing accessible@sacrt.com. Customers may also contact Customer Advocacy at 916-321-BUSS (2877), option 3 then option 6. 
For information about SacRT GO Paratransit Services call 916 321-BUSS (2877), select option 2, for Reservations select option 2 again. The reservations line is open daily from 8 a.m. to 5 p.m.  Visit sacrtgo.com to learn more. 
SacRT Mobility Advisory Council (MAC). Backrow: Gene Lozano, Jeff Thom, Pam Flohr, Alan Ruzich, Charles Johnson Front row: Helen O'Connell