Sit back, relax and read a book while Sacramento's new Library Train gets you to your destination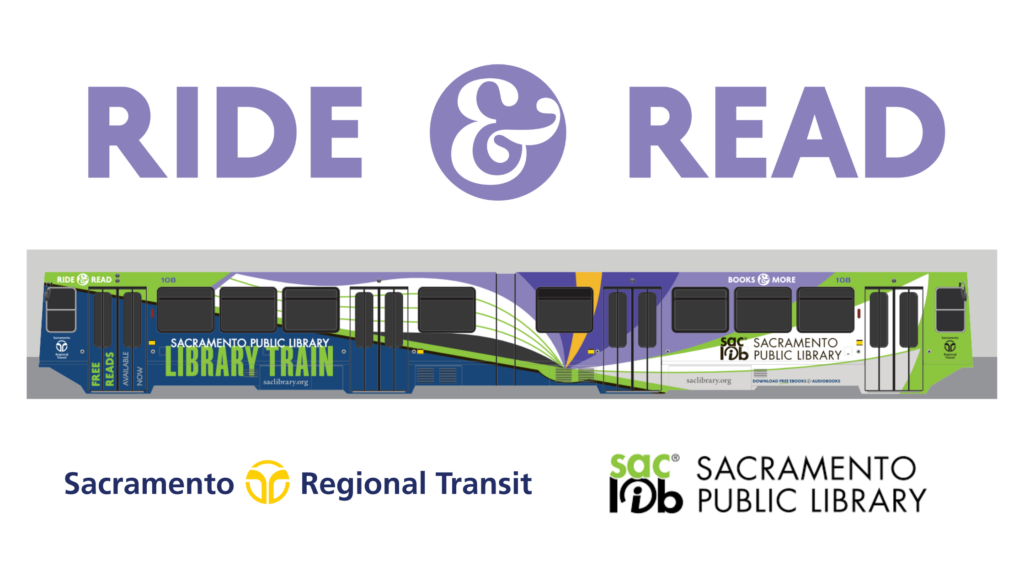 The next time you ride SacRT light rail, you may find yourself stepping into a literary adventure. 
SacRT and the Sacramento Public Library have teamed up to create the most unusual billboard experience yet seen in Sacramento – an immersive introduction to library services in the digital age. 
It's called the Rolling Library Train. When you board the train, you will feel like you've walked into a cozy library. The interior walls are decorated with an artistic wrap depicting rows and rows of books on shelves. 
The best part? Those "bookshelves" are dotted with hidden QR codes. It's a bit of a treasure hunt. Find a code, scan it with your smartphone camera, and you can instantly download a free ebook, an audiobook, or even a movie to watch as you ride or save it for later. 
You can also read about online classes offered by the library system, including courses for high school diplomas and job training. Or learn how you can actually check out a lawn mower from the library. 
SacRT officials say they are delighted to be able to provide an innovative and engaging way to advertise the services provided by an important community partner. The program reflects the transit agency's ongoing efforts under General Manager/CEO Henry Li to expand the role it plays in the greater community. 
"Collaborations like this are part of the SacRT community outreach plan, a way we can connect our riders and the entire community with important amenities in our service area," said SacRT VP of Communications and Partnerships Devra Selenis. "Finding meaningful partnerships is really important to us. And we see the library as a valued community partner." 
SacRT recently emblazoned four trains with unique artwork designed by four local artists to help promote local arts and culture in Sacramento. But the rolling library train takes SacRT's program to a new level. It's the first train that provides riders with an interactive experience inside a light rail car. 
More importantly, the year-long library train program will showcase the ways in which a venerated public library system has been quietly but dramatically expanding its services in the digital era. 
"People still think of the library as only books," said Library Director and CEO Peter Coyl. "That is our bread and butter. But we offer so much more. You can check out an ebook from the library and learn a language without paying a subscription. You can get your high school diploma; we have a free online program." 
"Having people understand that libraries are more than just books is a mission we've been working on for years, and that is one reason we are so excited about this partnership with SacRT. People will be able to be on the train and see the things that the library offers." 
Also among the services: early math classes, financial classes, international films and documentaries, and sensory storytimes for children.  
And notably, the library has a program called "The Library of Things" that offers a variety of useful everyday items for free checkout, including guitars, Go Pro cameras, recreation equipment, pressure washers, and even lawn mowers. 
The train is also a way for the library system to meet people where they are, Coyl said. "The idea of taking the library to the streets and removing that barrier to access is really what the Rolling Library Train is about. When you see the train, hopefully, that will give the understanding that anyone is welcome here." 
SacRT is financing the program within its resources and with help from Lamar Advertising. The artwork used for the program is done with vinyl wrap applied like wallpaper to the surface of the light rail train car walls. 
"We would love to do more of these innovative rolling experiences in the future if resources are available," Selenis said. "We want to continue sharing the remarkable value public transit brings to the Sacramento community." 
Learn more about the library train at sacrt.com/rollinglibrary.