SacRT Hosting Two Hiring Events in June
 Join SacRT for an in-person hiring event. We have many different career opportunities, which include medical, dental, paid sick leave and retirement benefits. Also, $2,000 signing bonuses for bus drivers!
Tuesday, June 6, 2023, from 10 a.m. – 3 p.m.

 

Thursday, June 15, 2023, from 2.m. – 7 p.m. 
SacRT Auditorium
1400 29th Street, Sacramento
Ride SacRT fixed route bus and light for FREE to and from the hiring event with the free ride flyer below! Just print or screenshot the free ride flyer and present it to the bus operator or light rail fare inspection staff upon request.
Light rail: Blue Line to 29th Street light rail station
Bus: Routes 30, 38, 67/68
Plan your trip at sacrt.com/planyourtrip.
SacRT Hiring Event Free Ride Flyer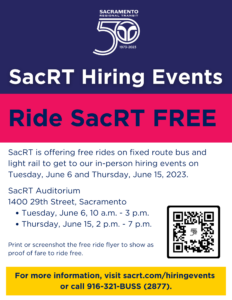 SacRT Hiring Event Informational Flyer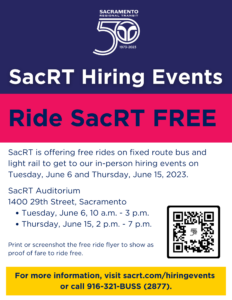 You don't need to wait for a hiring event to apply. All open SacRT positions are available on our website at sacrt.com/careers.
SacRT offers extremely generous and competitive benefits package for medical, dental, paid sick leave, retirement, and tuition reimbursement. Benefits include 90% of full family health premiums* and 100% dental and vision premiums paid for by SacRT.
*Actual out of pocket cost depend on health care provider selection.
All driver (operator) positions include $2,000 sign-on bonuses! Don't have your Commercial Driver License (CDL), we will help you get it!
Create an Account and Apply Online 
All SacRT career opportunities are available online. Simply create an account and apply online now.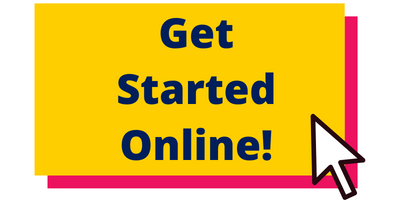 We're Hiring
We

will help you get your 

Commercial Learners Permit and

offer paid

C

ommercial

Driver License

(

CDL)

train

ing! 

 
 Be Prepared: What you need to apply online:
Valid ID  

 

Employment history (last 10 years of work): 

 

Name of companies 

 

Address 

 

Phone number 

 
After receiving a conditional offer from SacRT, applicants will need to provide:
Conviction history (last 7 years)

Residential history (last 7 years):  

 

Address (including dates of residence) 

 
Note: Although the use of certain controlled substances is now legal in California for both recreational and/or medicinal purposes, if you are not able to pass a pre-employment drug screening, you will not be considered for this position. 
SacRT Benefits Include:  
Medical/dental/vision insurance

 

Health care/dependent care flexible spending accounts 

 

Vacation

 

Sick leave 

 

Paid holidays

 

Transit pass (no cost to employee and eligible dependents) 

 

Defined benefit pension plan or 401a Defined contribution plan (Determined by bargaining unit)

 

Voluntary employee funded deferred compensation savings plan (457b)

 

Company paid life insurance

 

Voluntary employee paid supplemental life insurance (employee and eligible dependents)

 

Employee Assistance Program 

 

Education reimbursement

 

Theme Park discount tickets

 
SacRT Career Opportunities 
All of our career opportunities are available on our online career portal at sacrt.com/careers or call SacRT Human Resources at 916-556-0298.