Dos Rios Light Rail Station
SacRT hired the Portland State University Center for Public Interest Design (CPID) to help further refine the design of the new Dos Rios station planned for North 12th Street in the City of Sacramento. The future station will be served by the Blue Line.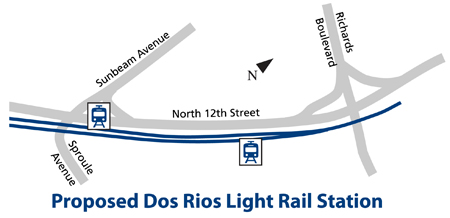 We need your help to develop the station design direction. Please join us for an upcoming design charrette, which is an intense (and fun) brainstorming and design session. SacRT and CPID will engage everyone to define key interests and viewpoints, discuss stations concepts and move toward a design direction for which stakeholders feel co-authorship.
When: Tuesday, April 10, 2018
Optional site tour: 2:00 p.m. – meet at the corner of North 12th Street and Sproule Avenue
Charrette: 3:00 to 6:30 p.m. – Smythe Academy Auditorium
Where: Smythe Academy, 700 Dos Rios Street, Sacramento 95811
Why Attend? To share your interest and viewpoints about the Dos Rios light rail station.
Light refreshments will be served.
Project Schedule & Reports:
Sign up to be on the Dos Rios Project mailing list here.
Project Manager:
Traci Canfield
Senior Strategic Planner
Sacramento Regional Transit
Tcanfield@sacrt.com