Light Rail Modernization Project
Light Rail Modernization Project
SacRT is currently in the process of updating the light rail network with its Light Rail Modernization Project. This project will improve modernize the light rail system with new low-floor light rail vehicles, updated station platforms and adding "passing track" to Folsom area stations.  
The Project Includes: 
Installing a second track or "passing track" at Folsom area stations to operate every 15 minutes, between Sunrise and Historic Folsom Stations, rather than the existing 30 minutes. 

 

Purchase new low-floor light rail vehicles to modernize the aging light rail fleet.

 

Station conversions to accommodate the new low-floor light rail vehicles. 

 

Major facility improvements for the Watt/I-80 Transit Center and Sacramento Valley Loop (Environmental Clearance Phase).

 
Passing Track at Folsom Stations 
The 15-minute service at Folsom area stations is currently impeded because only a single track serves between the Hazel Station and the Historic Folsom Station. As a result, eastbound light rail trains traveling from downtown Sacramento to Historic Folsom, and westbound trains traveling from historic Folsom to downtown Sacramento must use the same track. 
Installing a second track, or a "passing track," provides SacRT with the opportunity to modernize its light rail system and increase service to Folsom. The second track will enable light rail trains to operate eastbound and westbound between the Sunrise and Historic Folsom stations with minimal delay. In addition, the Gold Line light rail station platforms will be raised to accommodate SacRT's new low-floor vehicle fleet. 
New Low-Floor Light Rail Vehicles  
SacRT was awarded $170 million in funding specifically for the Gold Line to modernize the light rail fleet, including the purchase of 28 new low-floor light rail trains, station modifications, and as mentioned above, a "passing track" near Folsom to provide 15 minute service that will provide better accessibility for passengers with disabilities, bicycles, and strollers, and help reduce traffic congestion on the busy Highway 50 corridor.  
On April 15, 2020, SacRT signed the notice to proceed to purchase the first 20 new low-floor light rail vehicles from Siemens Mobility, Inc. In December 2021, SacRT and Siemens Mobility executed a contract for the purchase of an additional eight vehicles, on top of the 28 currently being manufactured. SacRT's contract with Siemens includes options for the purchase of up to 76 vehicles. SacRT subsequently secured $46.4 million for the purchase.
The majority of SacRT's existing light rail vehicles have reached their useful life.  The new low-floor vehicles will have low level boarding at every doorway, a spacious seating design, and large windows for better light and views. They will feature improved accessibility with wider aisles and areas for bicycles. The new low-floor vehicles will increase overall operational flexibility by providing more access to passengers with disabilities. 
In order to better accommodate accessibility, the new low-floor light rail trains will only use three S700 car vehicles, because there are a number of city blocks in downtown Sacramento that are not long enough to accommodate four of the S700 vehicles while meeting ADA requirements for the bridge plate to land 8" above the top of the street.
The first low-floor vehicles are scheduled to be ready for revenue service to SacRT by the end of 2023.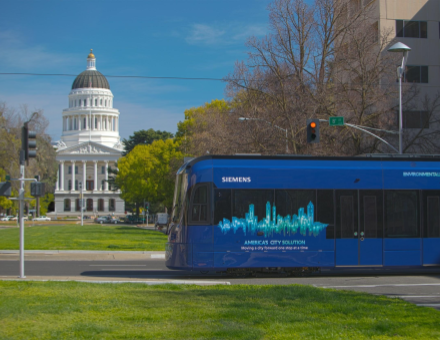 Station Conversions  
Light rail station platforms will need to be converted to provide access for riders on the new low-floor light rail vehicles. The station platforms are required to be eight inches above the top of rail track to allow for the ramp to deploy from the vehicle to the station platform with the proper slope for passengers to board. Most stations (48 of 53) serving the light rail system do not have platforms that meet the eight-inch requirement and will need to be raised.  
Stations constructed after 2006 were designed for low-floor vehicles and will not require modification.  
SacRT will upgrade the Gold Line station platform conversions in two phases: 
In the first phase, a portion of the station will be upgraded to allow for a two-car low-floor train by pouring concrete to raise the platform eight inches above the top of rail track. 

 

In the second phase, an additional raised platform will be placed adjacent to the Phase 1 platform to accommodate a three-car low-floor train. The construction is expected to be completed by Fall 2023. 

 
Following the completion of Gold Line station platform conversions, the Blue Line station platforms will be converted to accommodate the new low-floor light rail vehicles.  
Passing Track Construction
The construction work will start in early Summer of 2022. 
Construction is expected to be complete by late 2023. Upon project completion, trains will arrive in, and depart from, downtown Folsom every 15 minutes.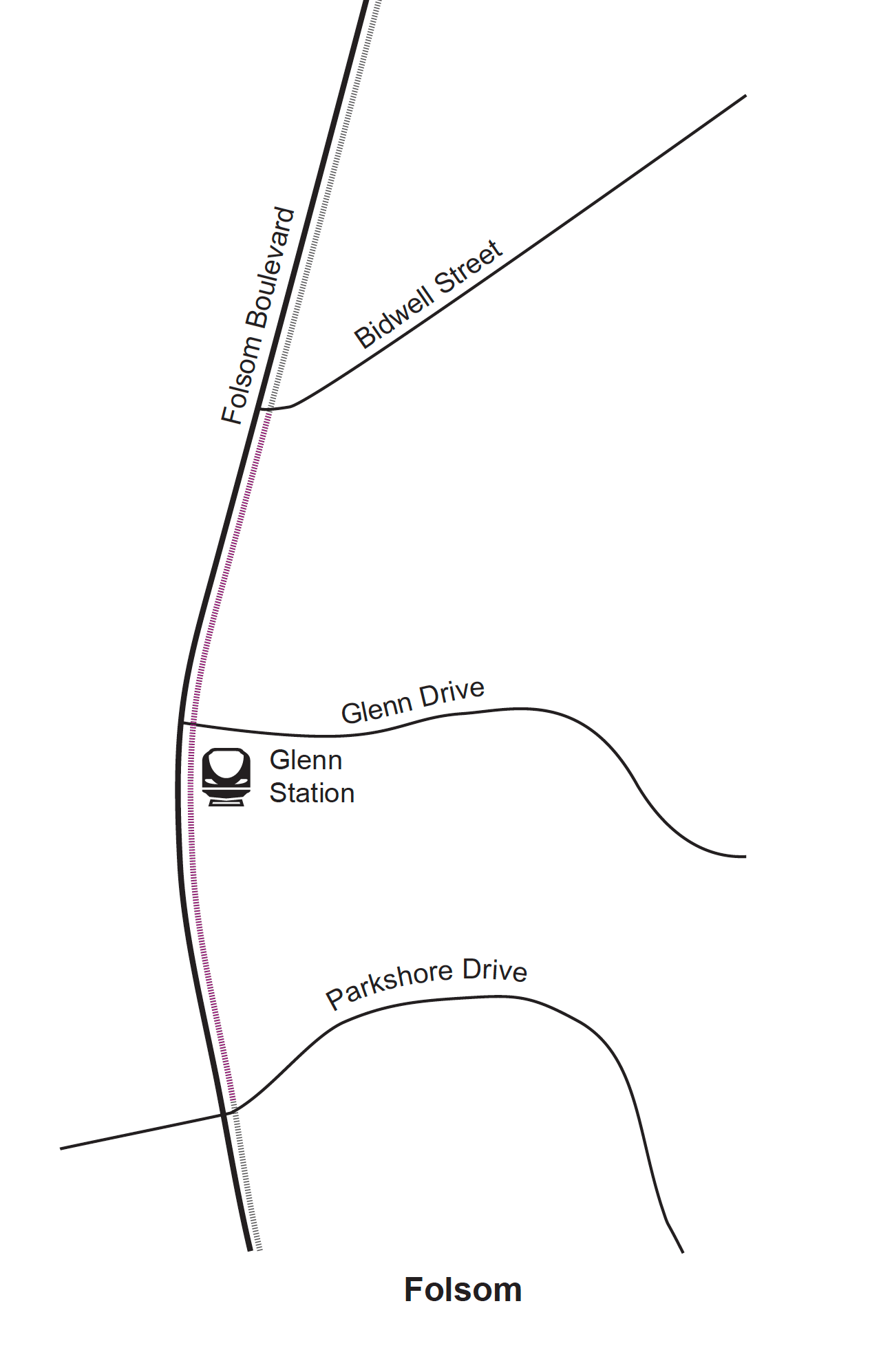 Major Facility Improvements 
In 1987, SacRT opened an 18.3-mile light rail system that linked northeastern (Interstate 80) and eastern (Highway 50) corridors with downtown Sacramento. The stations were equipped with mini-high platforms to allow ADA accessibility to the front light rail vehicle only.  
 
Currently, SacRT operates on over 43-miles of track and provides service to 53 stations. Many of the original stations and facilities are still in service and both the technology and design need modernization. This modernization to major facilities include double-tracking, signal upgrades, station remodeling, and power station replacement, which will improve accessibility and reliability.  
Watt I-80 Transit Center Improvements Project
Watt I-80 Transit Center Improvements Project: The transit center improvements include reconfiguring the east and west stairwells to increase visibility and safety, replacing the east and west elevators, and upgrading to the transit center on Watt Ave by enhancing safety, lighting, seating, and widening the bus loading zone. Currently the project is in Preliminary Engineering with an anticipated design completion of April 2023. CEQA/NEPA has been approved. The new east elevator is completed and operational. The new west elevator is expected to be in operation at the end of April 2022. 
Project Documents
Aerial View of Project Location 
Environmental Topics – Folsom Rail Modernization Program 
General Information Fact Sheet 
Glenn Station and Intersection improvements 
Project Construction Schematics 
Folsom Gold Line Double Track Final IS-MND 
Folsom Double Track MMRP Final 
Folsom Double Track NEPA CatEx with approval
Folsom Double Track FTA NEPA CE Determination SacRT
Folsom Double Track sign DA – 200914 FTA Letter
For more information about the project email: modernization@sacrt.com
Past Meetings
---
Folsom Gold Line Double Track Final IS-MND and Folsom Double Track MMRP Final was approved at the January 13, 2020 Board meeting.
---
A public meeting was held to provide members of the public an opportunity to make verbal comments on the Draft IS/MND. The meeting was held during SacRT's regularly scheduled Board meeting on Monday, December 9, 2019, at the SacRT Auditorium.
---
A public meeting was held Wednesday, June 20, 2019, at the Rancho Cordova City Hall.
---
A public meeting was held Wednesday, April 17, 2019, at the Folsom Community Center.