Light Rail Modernization Project
SacRT is moving forward with plans to improve its light rail service to Folsom along the "Gold Line" (Highway 50 corridor). The improvements would allow light rail trains to operate every 15 minutes, between the Sunrise Station and end of the line at the Historic Folsom Station, rather than the existing 30 minutes. The 15-minute service is currently impeded because only a single track serves between the Hazel Station and the Historic Folsom Station. As a result, eastbound light rail trains traveling from downtown Sacramento to Historic Folsom, and westbound trains traveling from historic Folsom to downtown Sacramento must use the same track.
Installing a second track, or a "passing track," provides SacRT with the opportunity to modernize its light rail system and increase service and reliability to Folsom – the second track will enable light rail trains to operate eastbound and westbound between the Sunrise and Historic Folsom stations with little or no delay. In addition, the Glenn/Robert G Holderness and Hazel stations will be re-constructed with lower-floor platforms to accommodate SacRT's new low-floor vehicle fleet.
SacRT was awarded $150 million in funding to modernize the light rail fleet, including the purchase of 20 new low-floor light rail trains, low-floor stations, and double-tracking to Folsom that will provide better accessibility for passengers with disabilities, bicycles, and strollers, and help reduce traffic congestion on the busy Highway 50 corridor. In addition, it will save SacRT money in high maintenance and repair costs that are associated with keeping light rail cars in service past their 30-year useful life.
On April 15, 2020, SacRT signed the notice to proceed to purchase the first 20 new low-floor light rail vehicles from Siemens Mobility, Inc. Read the news release: https://www.sacrt.com/apps/sacrt-purchases-new-low-floor-light-rail-vehicles/
On April 22, 2020, SacRT was awarded an additional state grant for $23 million to purchase additional light rail vehicles. Read the news release: https://www.sacrt.com/apps/additional-funding/
The Light Rail Modernization Project consists of three project components: 15-minute light rail service to Historic Folsom, procurement of 10 light rail vehicles and low-floor station conversion for the Gold Line stations.
Double tracking:
In order to increase the frequency of light rail service to Folsom, a second track must be added at two locations. The first location extends from Market Place Lane to Aerojet Road in the City of Rancho Cordova.

The second location extends from Parkshore Drive to Bidwell Street in the City of Folsom.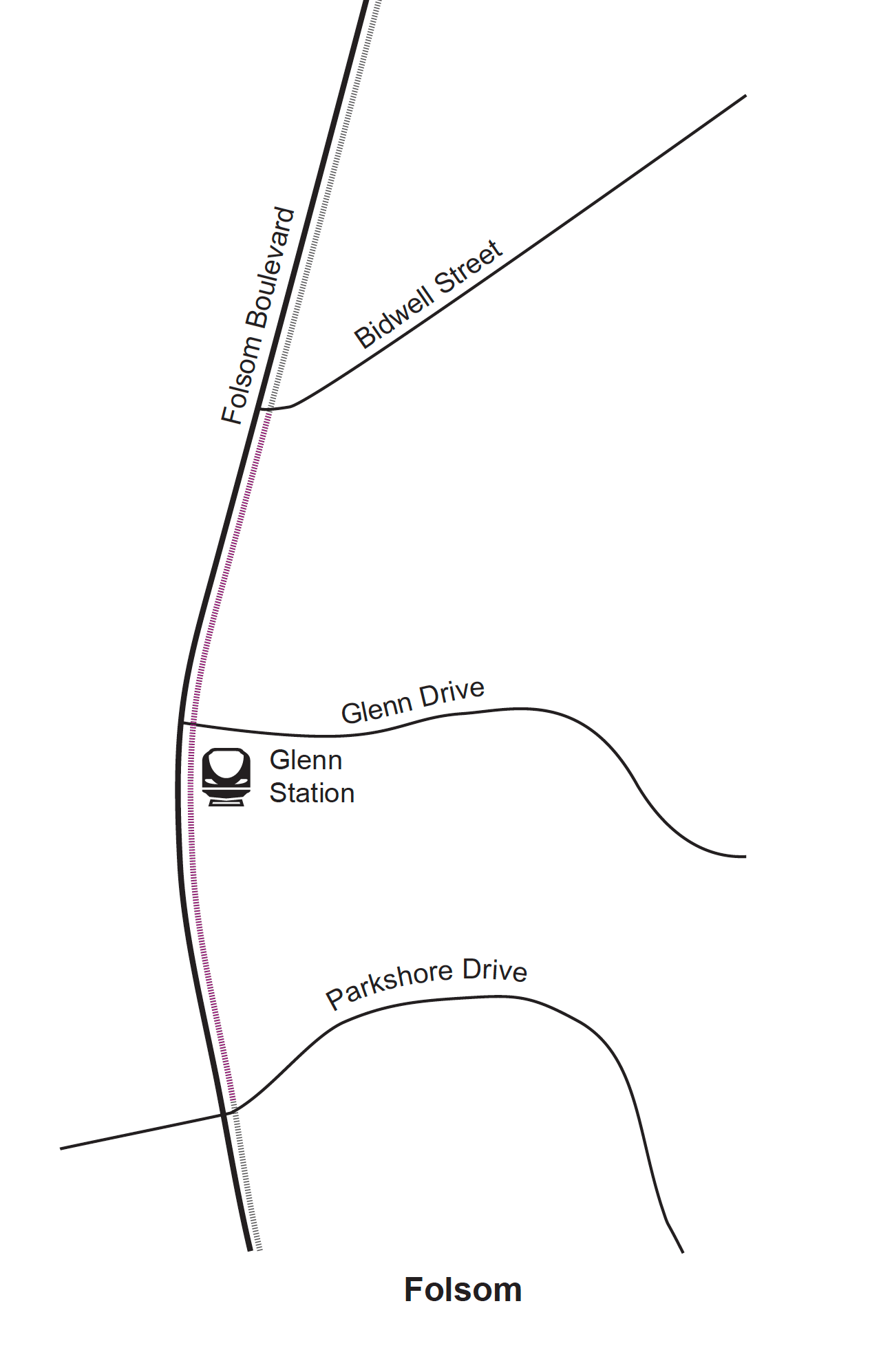 A study is underway to determine how double tracking may impact the existing bike trail, "protected" trees, the existing freight track west of Hazel Avenue, and local circulation at street crossings and the stations.
Construction is expected to take approximately two years with start of service by late 2023. Upon project completion, trains will arrive in, and depart from, downtown Folsom every 15 minutes.
Low-floor light rail vehicles:
The majority of SacRT's existing light rail vehicles have reached their useful mid-life overhaul.
The new low-floor vehicles will increase the capacity for passengers with disabilities and increase overall operational flexibility. However, the new low-floor vehicles are incompatible with existing light rail stations, with the exception of the Green Line to the River District and the Blue Line to Cosumnes River College light rail stations; therefore, low-floor station conversion construction needs to take place.
Low-floor light rail station conversions:
SacRT is in preliminary design to convert 29 light rail stations on the Gold Line to accommodate low-floor vehicles. Low-floor station conversion will initially take place on the Gold Line stations in order to accommodate new light rail vehicles and provide 15-minute service to and from the Historic Folsom light rail station. Construction is expected to be completed by summer 2023.
For more information about the project email: modernization@sacrt.com
Project Documents
Aerial View of Project Location
Environmental Topics – Folsom Rail Modernization Program
General Information Fact Sheet
Glenn Station and Intersection improvements
Project Construction Schematics
Draft Initial Study/Proposed Mitigated Negative Declaration Folsom Light Rail Modernization Double Track Project
Draft Initial Study/Proposed Mitigated Negative Declaration Folsom Light Rail Modernization Double Track Project Power Point Presentation
Folsom Gold Line Double Track Final IS-MND
Folsom Double Track MMRP Final
Past Meetings
A public meeting was held to provide members of the public an opportunity to make verbal comments on the Draft IS/MND. The meeting was held during SacRT's regularly scheduled Board meeting on Monday, December 9, 2019, at the SacRT Auditorium.
A public meeting was held Wednesday, April 17, 2019, at the Folsom Community Center. For more information, contact Environmental Consultant Rod Jeung, rod.jeung@aecom.com