Help Improve SacRT Bus Stops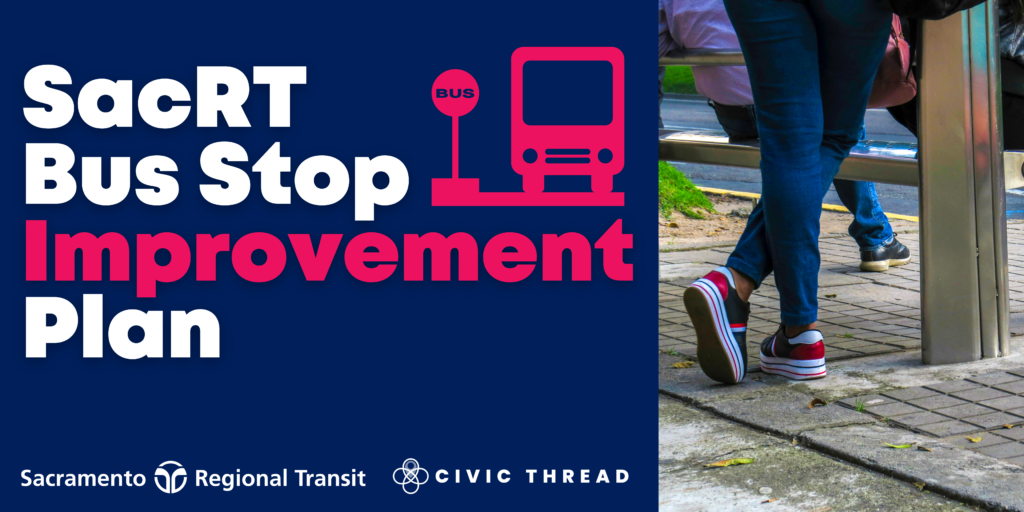 SacRT partnered with Civic Thread, a local non-profit planning and advocacy organization, to host a series of community workshops to better understand the conditions and accessibility of SacRT bus stops around the Sacramento region.  
Bus Stop Improvement Plan  
SacRT and Civic Thread are working to complete a Bus Stop Improvement Plan for the SacRT service area, which includes the cities of Citrus Heights, Elk Grove, Folsom, Elk Grove, Rancho Cordova and Sacramento and Sacramento County. This plan will create a comprehensive list of necessary and desired improvements to bus stops, amenities, and supporting pedestrian infrastructure. Civic Thread's role is to engage the broader community to ensure that transit-dependent, low-income, underserved, and minority community members have a full opportunity to engage in the planning process. Engagement will help guide where funding should be prioritized to improve the SacRT bus stops for all residents. Civic Thread is currently conducting bus stop assessments to identify accessibility and safety issues at bus stops throughout SacRT's service area.  
Open Houses
An in-person open house is scheduled in December in Rancho Cordova. A virtual open house is also scheduled in December.
In-Person
Tuesday, December 6, 2022
5:00 p.m. to 6:30 p.m. (presentation at 5:30 p.m.)
Mills Station Art & Culture Center: The MACC
10191 Mills Station Rd
Sacramento, CA 95827
Register online at: tinyurl.com/busstop-rc
Recommended routes:
Bus Route 21, 72, 75, Rancho Cordova SmaRT Ride, LightRail to Mather Field/Mills Station, & Rancho CordoVan
Free Ride Flyer – English and Español (click the graphic below)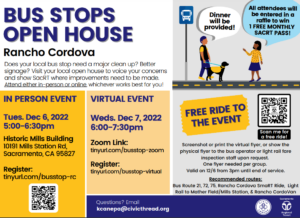 Virtual Open House
Wednesday, December 7, 2022
6:00 p.m. to 7:30 p.m.
Participate online at: tinyurl.com/busstop-zoom
Register online at: tinyurl.com/busstop-virtual
Background:
In 2019, SacRT launched SacRT Forward, a newly redesigned bus network that was implemented to reflect customer needs, meet current travel patterns, and improve connectivity with more direct service and better frequency.    
As part of SacRT Forward, there were several bus route modifications that took place in SacRT's service area with the goal of serving county residents that had previously been underserved. This resulted in new bus service in corridors that in some cases do not have usable pedestrian access, including some locations that have limited sidewalk access and/or are not ADA accessible. 
Community Engagement: 
Bus Stop Improvement Survey

:

 

SacRT

and Civic Thread conducted

a

community survey

which

allow

ed

respondents to express their concerns about what bus stops need to be improved. The Community Survey will inform locations for Community Walk Audits.

 

Th

e

survey

ended on

Friday, June 17, 2022.

Open Houses: The first open house was held on

September 1, 

2022

 in north Sacramento. A second open house was held

 

on

October 11,

2022

in Carmichael/Citrus Heights

.

A third open house was held in South Sacramento on October 25, 2022

Open Houses will provide the

opportunity for residents to express their personal experiences with transit and inform plan development

. 

More open houses will be announced as locations and dates are secured. 

 

Community Walk Audits:

Walk audits will be conducted throughout the project term to inform community members about the project, gather feedback from resident experts, and identify issues with bus stops. The locations of the walk audits will be informed by the findings from the Community Survey. 

 
Want to get involved so you can help inform these community decisions? Check out the links below!  
How to Get Involved 
Meet our Partner:  
Civic Thread is a non-profit planning and advocacy organization that works at the regional and local level to elevate institutionally underserved communities and their priorities. They strive to create community-centered approaches to address historic inequities and prioritize investment in historically underserved communities.  
Learn more about the project: Civic Thread Website 
Contact: 
SacRT – James Drake
Civic Thread – Kathryn Canepa