SacRT GO Paratransit Services
Attention SacRT GO Riders – Please Use Your Expiring Single Ride Tickets 
SacRT GO Single ride tickets with a June 30, 2022 expiration date will continue to be accepted through September 30, 2022.  
If you are not able to use these tickets before September 30, 2022, SacRT is offering a ticket exchange options. Riders can bring their single ride SacRT GO tickets with a June 30, 2022 expiration date to the Customer Service and Sales Center at 1225 R Street (adjacent to the 13th Street light rail station). Customer service staff can assist riders in exchanging these tickets for new ones. 
Scheduling Reminder
If you have some flexibility with your SacRT GO trip, please let a reservationist know. Riders may experience lower wait times when traveling outside the popular trip times. SacRT GO continues to experience the impact of the nationwide driver shortage. We appreciate your patience and understanding.
---
Sacramento Regional Transit District (SacRT) began operating paratransit services on Sunday, June 28, 2020. The service is called SacRT GO Paratransit Services. For all information and services related to SacRT GO call 916 321-BUSS (2877), select option #2, for Reservations select option #2 again. The reservations line is open from 8:00 a.m. to 5:00 p.m.
Passengers can schedule up to two days prior to when they want to take their trip, however they must be scheduled up to 5:00 p.m. the day before.
SacRT GO will operate whenever the Fixed Route Service or Light Rail service operates depending on the routes. Currently, the service can start as early 4:30 a.m. to 1:00 a.m. (Blue Line).
All previous policies for ADA paratransit service and Non-ADA service remain in effect, SacRT GO is providing both services.
Planning your SacRT GO Trip with the New SacRT GO Mobile App 
The SacRT GO Paratransit Mobile App is now available. The app can be downloaded in the App Store for iPhone users and on Google Play for Android users.  
Once downloaded, please contact SacRT GO Reservations at 916-321-BUSS (2877), option 2, then option 2 again, to activate your account. 
Use the new SacRT GO mobile app to request a ride, manage your trips, view trip details and get real-time updates about your scheduled trips all from the convenience of your smartphone.  
Download the SacRT GO Mobile App here: 
App Store: https://apps.apple.com/us/app/sacrt-go-paratransit-service/id1541586735 
Google Play: https://play.google.com/store/apps/details?id=com.ecolane.sacrt.app 
Please note: Riders can only book rides on the new mobile app during regular SacRT Go reservation hours, Monday-Sunday 8 a.m. to 5 p.m.  
For help setting up your account, click here.
For questions or additional assistance, please contact SacRT at 916-321-BUSS (2877) 
SacRT Adds Supplemental Services to SacRT GO Paratransit Services

To ensure the best service possible for our customers, SacRT partnered with an Adaptive Transportation Network Company called UZURV to provide additional support for SacRT GO Paratransit Service customers. The partnership began on Tuesday, April 19, 2022.
UZURV independent contractor drivers will operate regular passenger vehicles to provide SacRT GO customers door-to-door service.  
Vehicles are marked with a UZURV sticker decal on the front window and a SacRT GO magnet on the passenger side door.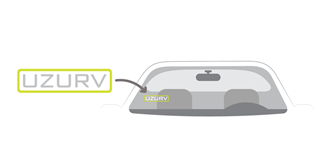 Learn more at sacrt.com/UZURV.
ZipPass Mobile Fare App for SacRT GO 
SacRT's ZipPass mobile app for fare payment will be available for SacRT GO customers starting Tuesday, February 15, 2022.
Download ZipPass to purchase fare directly from your smart phone.
To use ZipPass on SacRT GO, simply flash your active pass to the operator when boarding the vehicle.
Download the free app from the App Store or Google Play
Step-by-step guide for using ZipPass on SacRT GO
Step 1: Download the ZipPass app
Step 2: Create an account
Step 3: Set up payment method
Step 4: Purchase SacRT GO ticket
Step 5: Active Pass just before you board the SacRT GO shuttle
Step 6:  Show Active Pass to SacRT GO driver
Masks Recommended on Public Transit
As of Monday, April 18, 2022, the Federal Transit Administration no longer mandates that masks be worn on public transportation; however, SacRT still highly recommends wearing a mask while riding public transportation, especially if you are unvaccinated. The health and safety of our staff and riders remains a top priority.  For more information visit sacrt.com/covid19.
SacRT Go Service
The only change to ADA paratransit service is that SacRT is operating the service directly, instead of contracting it to Paratransit Inc. (PI). SacRT's ADA paratransit service team include many of the same drivers and reservationists that were employed by PI. Service levels will not change and fare will not increase.
SacRT's focus is on working with our partners in the disability, elderly and transit communities to develop and operate an ADA paratransit service model that complements our accessible transit system and meets the mobility needs of all members of our community.
SacRT Go Fares
SacRT has improved the fares for paratransit service by adding free SacRT fixed route access with the purchase of a SacRT GO ADA 60-ride monthly pass for $137.50. In addition to being a better value for our customers, the 60-ride monthly pass is completely electronic and handled by SacRT utilizing our dispatching software, Ecolane. A Reservation Specialist will have access to verify a riders monthly pass and book ADA trips. They can also provide the remaining balance of trips for the month. Single ride paper tickets for SacRT GO service are also available for purchase. All single ride ADA and Non-ADA trips are $5.00 per trip.
All fare media purchased prior to June 28,2020 will be accepted; however, the 44-ride pass has been discontinued.
| | | |
| --- | --- | --- |
| FARE MEDIA | ADA SERVICE | NON-ADA SERVICE |
| Single Ride Fare (one-way trip) | $5.00 | $5.00 |
| ADA 60-ride Monthly Pass | $137.50 | Not available |
| Companion | $5.00 | $5.00 |
| Personal Care Attendant (PCA) | Free | Free |
| Children Under Age 5 | Free | Free |
| 44-Ride Monthly Pass | Discontinued | Not available |
SacRT Go Open Houses
SacRT held a series of open houses in January 2020 to explain the transition to current riders and answer questions.
Recordings of the SacRT GO Virtual Open Houses are available in the YouTube links below:
Thursday, June 18, 2020, 4:00 p.m. to 6:00 p.m. YouTube Link
Friday, June 19, 2020, 10:00 a.m. to 12:00 p.m. YouTube Link
For more information, contact SacRT's Accessible Services Department at 916-321-BUSS (2877) or email paratransit@sacrt.com.
SacRT's Letter to current ADA Paratransit Service riders
Click here for frequently asked questions
SacRT GO Rider's Guide
For more information on how to become eligible and how to request a ride please view the SacRT GO Rider's Guide.
View a map of the SacRT GO service area
ADA service is within ¾ mile of an active bus route or Light Rail station, SacRT GO will also provide service within the SacRT service area that is beyond these minimum requirements.
(click the map below to expand)
SacRT GO Communications